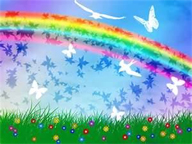 The EOC notes the Government's stated intention to further improve communications with stakeholders and do more to create greater awareness of the rights of sexual minorities, following the defeat of the motion moved by the Hon Cyd HO Sau-lan in the Legislative Council on 7 November to urge "the Government to expeditiously launch public consultation on enacting legislation to safeguard equal opportunities for and the basic rights of people of different sexual orientations." Earlier on 6 November 2012, the EOC issued a statement which articulated our view that a public consultation on this subject is indeed overdue, in light of recent global trends towards protecting the LGBT community's rights. As the LGBT community continues to face discrimination in all aspects of their daily lives, the EOC recognizes the need for legislative protection to ensure the necessary safeguard of their dignity and human rights. The EOC calls on the Government to step up its public education efforts and bring this issue up for further discussion or consultation in the future.
Read the EOC's earlier statement
Details on the Hong Kong Pride Parade (10 November 2012)
*********************************************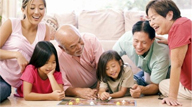 On 8 November 2012, Mr. LAM Woon-kwong, the EOC Chairperson, delivered the keynote speech at the Hong Kong Family Law Association Annual General Meeting 2012 on the topic of "Family Status Discrimination and the Challenge of Achieving Work-Life Balance." In his remarks, Mr. Lam discussed Hong Kong's work-fixated culture and the gender stereotypes underlying the absence of family-friendly measures in the workplace. He added that a number of barriers remain to the enforcement of the Family Status Discrimination Ordinance (FSDO), including limited understanding of the concept of "family status". He urged that the benefits of work-life balance, notably on employee engagement and talent retention, be emphasised to change mindset, and called on the Government to strengthen the legal framework to facilitate work-life balance.
*********************************************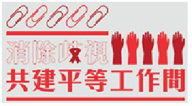 AIDS Concern is organising a workshop targeted at human resource practitioners, corporate managers, and corporate social responsibility personnel on the topic of "Eliminating discrimination against persons living with HIV/AIDS and creating an inclusive workplace for all." The workshop will feature speakers from AIDS Concern, Levi Strauss Limited, and the EOC to introduce ways that companies can remove stigma and promote understanding of HIV/AIDS in the workplace, including a case study and a discussion on the relevant legal provisions under the Disability Discrimination Ordinance. Please see the workshop details below and contact AIDS Concern at 2898 4411 for enquiries or enrolment.
| | |
| --- | --- |
| | |
| Date: | 19 November 2012 |
| Time: | 3:00 - 5:00 p.m. |
| Venue: | Red Ribbon Centre (2/F, Wang Tau Hom Jockey Club General Out-patient Clinic , 200 Junction Road, Wang Tau Hom) |
*********************************************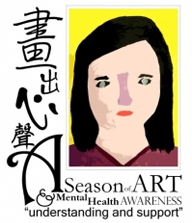 The University of Hong Kong – Centre on Behavioral Health and the Tung Wah Groups of Hospital Lok Hong Integrated Community Centre for Mental Wellness have launched an art therapy exhibition tour. The EOC showed our support for this initiative at the official opening on 22 October 2012 at Ma On Shan Plaza. The exhibition showcases pieces created by people living with mental illness in art therapy sessions, and provides a platform for them to share their thoughts and dreams while giving the general public a glimpse into their inner world. The exhibition identifies public misconceptions towards mental illness and aims to advocate more comprehensive policy changes to raise mental health awareness. The exhibition will be at The HK Academy for Performing Arts, Wan Chai on 19-25 November 2012.
*********************************************
Gender-based violence causes substantial detriment not only on the victims, but also on the whole society's progress towards gender equality. To raise public awareness, RainLily and the School of Nursing and the Department of Pathology at the University of Hong Kong are organising a symposium on gender-based violence in Hong Kong, with a focus on sexual and domestic violence. The symposium will feature a panel discussion as well as workshops on various topics related to ways to combat gender-based violence in this city from the perspectives of various stakeholders including academics, police, NGOs and the Government. For enquiries, please contact enquiry@rainlily.org.hk or 2717 1919.
| | |
| --- | --- |
| | |
| Date: | 19-20 November 2012 |
| Time: | 19 November, 2:00 - 5:00 p.m. / 20 November, 9:00am – 5:00pm |
| Venue: | William M.W. Mong Block, Li Ka Shing Faculty of Medicine, the University of Hong Kong, 21 Sassoon Road, Pokfulam, Hong Kong |
*********************************************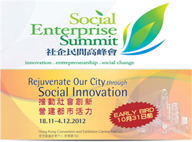 The EOC is a supporting organisation of the Social Enterprise Summit 2012. Now in its fifth year, the theme on this year's Summit is "Rejuvenating Our City through Social Innovation". An array of workshops, talks and other activities will take place from 18 November to 4 December. One of the key events, the International Symposium, will be held from 29 November to 1 December, and will feature local and international entrepreneurs who will share inspiring cases of social innovation in this city and overseas. Click on the links for more information.
*********************************************
Visit our website or download the EOC mobile app (Apple App Store / Google Play) to stay updated on the EOC's work and positions, and to review our press releases and calendar training. Also, stay tuned on other equal opportunities issues and community initiatives by visiting our community resources and community events pages for information from our community partners, including publications, survey reports, publicity campaigns, and upcoming conferences.