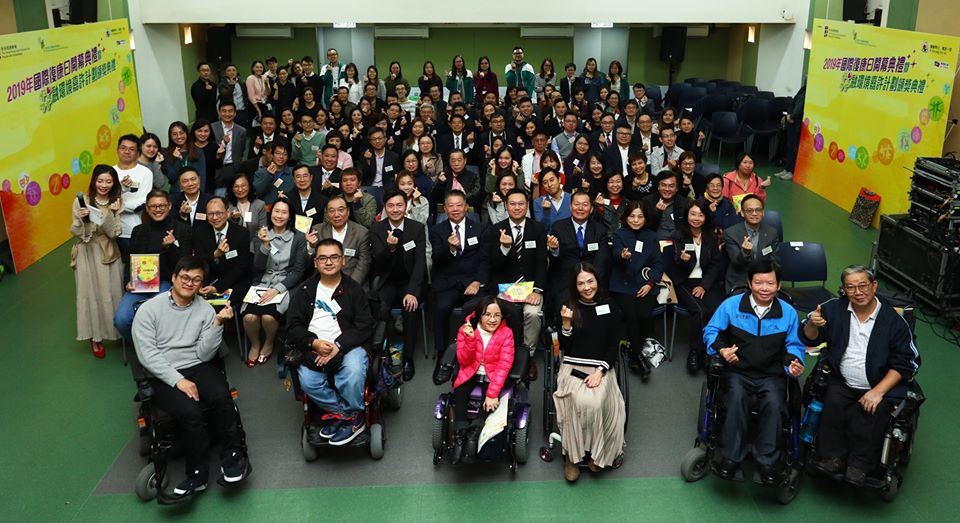 Proclaimed in 1992 by the United Nations, the International Day of Persons with Disabilities (PWDs) is observed annually on 3 December to promote the rights and well-being of PWDs in all spheres of society and development, and to raise awareness of the situation facing PWDs in every aspect of political, social, economic and cultural life.
In that spirit, Mr Ricky CHU Man-kin, EOC Chairperson attended two events this week, namely the Award Ceremony of the Inclusive Environment Recognition Scheme on 3 December, co-organised by the Hong Kong Joint Council for PWDs and the Hong Kong Council of Social Service, and the 47th anniversary gathering of the Hong Kong Federation of the Blind on 4 December. Mr Chu will also be attending the Charity Walk hosted by Ebenezer School and Home for the Visually Impaired as an officiating guest this Sunday (8 December), to cheer for students with visual impairment and their family.
"Over the past few months, damage to some of the city's public facilities, including barrier-free facilities, has heightened the difficulty and risk for PWDs to navigate around Hong Kong independently," said Mr Chu. "We urge all members of society to be more sensitive to the needs of PWDs, and to demonstrate a greater commitment to safeguarding the fundamental rights and well-being of marginalised communities." 
Separately, the EOC has recently uploaded a video onto its YouTube channel, featuring highlights from a public education event held in October in collaboration with Radio Television Hong Kong (RTHK) Radio 1 to champion equal opportunities for PWDs. The event included experience-sharing sessions by PWDs as well as performances by local singers. Click the link below to view the video now!
Watch the video
More on the International Day of PWDs
About the Inclusive Environment Recognition Scheme
About the Hong Kong Federation of the Blind
2
---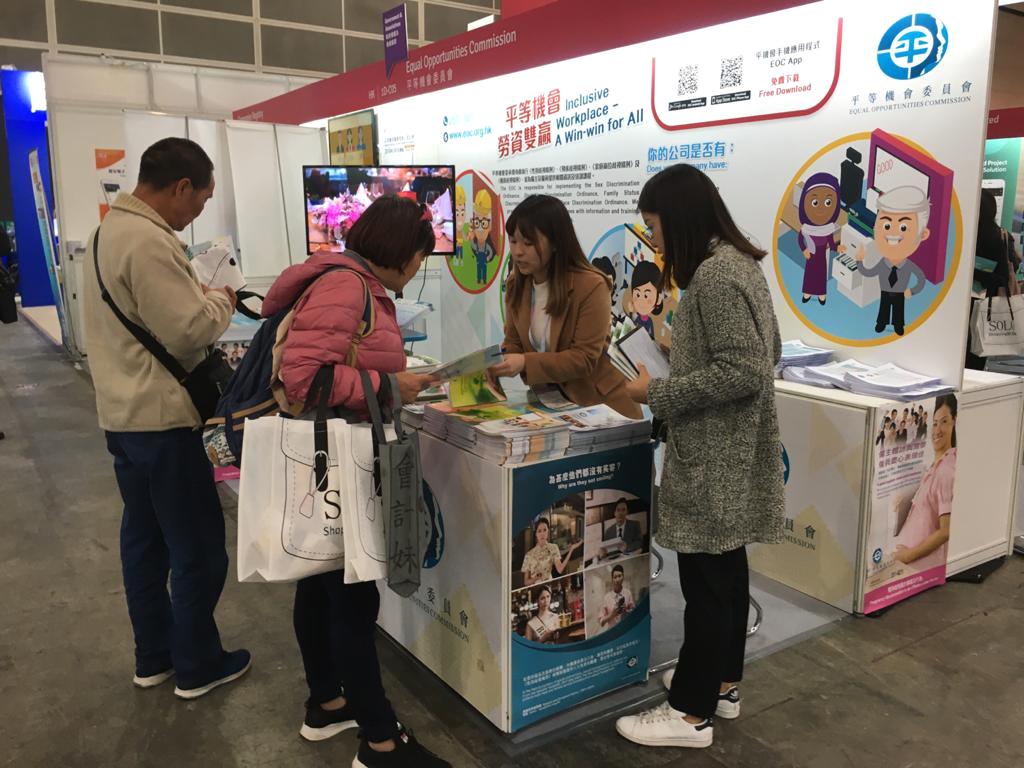 SmartBiz Expo is now taking place at Hong Kong Convention and Exhibition Centre, and will close at 6pm on 6 December 2019 (Friday). Once again, the EOC is joining the annual expo, organised by the Hong Kong Trade Development Council for companies across a wide spectrum of industries, including small and medium enterprises (SMEs), to showcase and promote innovations that drive business development.
Grab the opportunity to visit the EOC's booth (No. 1D-C07) and brush up your knowledge about how the four anti-discrimination ordinances apply to your business. You will hear from our staff about ways to build an inclusive workplace, and why it can be a win-win for both employers and employees. Some of the EOC's publications and souvenirs are also available for pick-up on a first-come, first-served basis.
About SmarBiz Expo
Download the EOC's "Equal Opportunities: Concise Guide for Small and Medium Enterprises"
3
---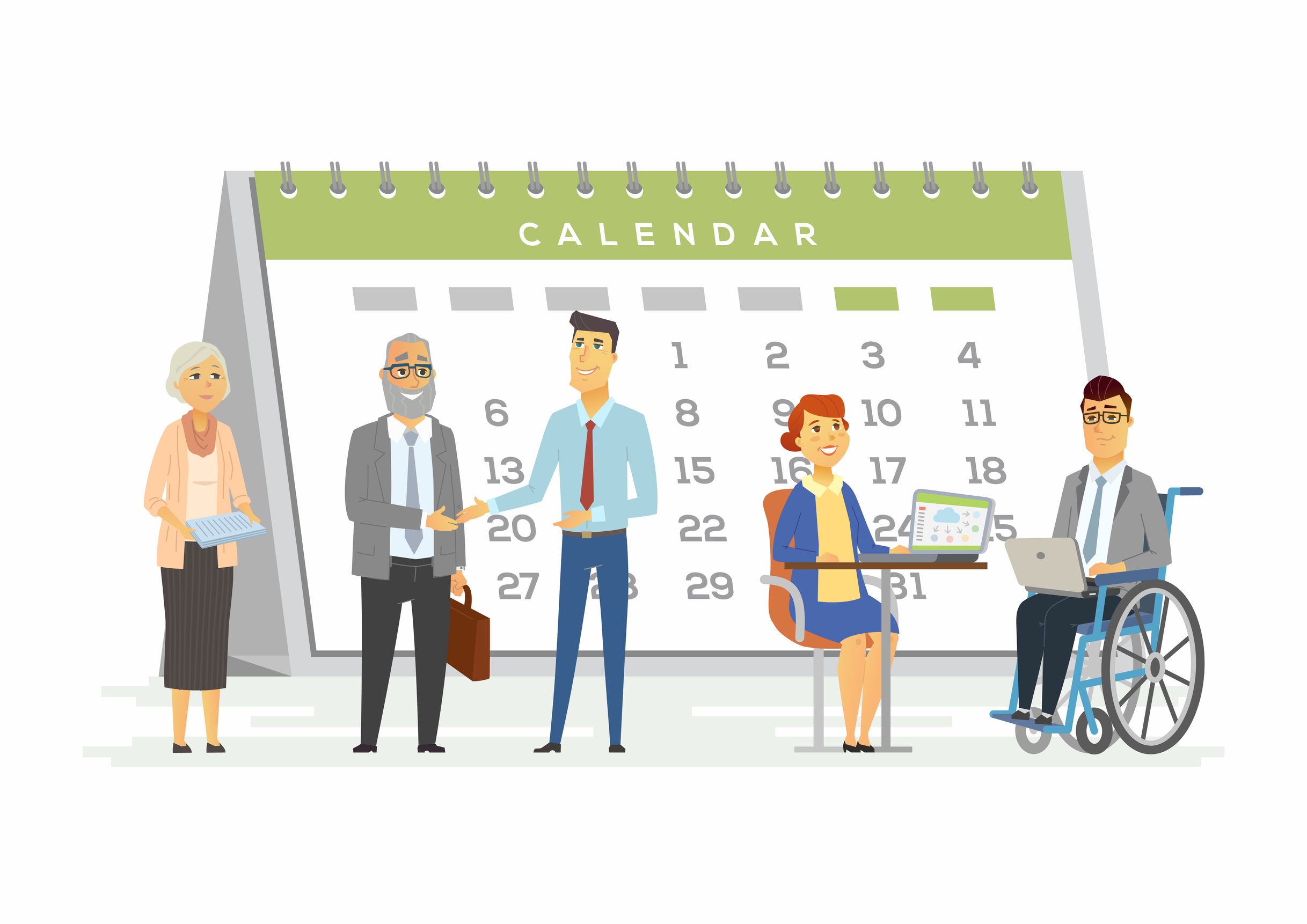 How can employers better accommodate the needs of talents with disabilities? What are the obstacles facing job seekers recovering from mental illness? Why is web accessibility important for businesses?
Get insights into these issues by joining the EOC's seminar, "Creating an Inclusive Workplace for People with Disabilities" on 20 December 2019 (Friday), 2:30pm – 5:00pm at the EOC Office, 16/F, 41 Heung Yip Road, Wong Chuk Hang. Included in the speaker line-up are Mr Walter TSUI, Co-founder and Executive Manager of Care ER; Mr WONG Chung-bao, Professional Service Manager (Community Services) of New Life Psychiatric Rehabilitation Association; and Mr Terry WONG and Ms Mandy KWONG, Project Manager and Social Worker of Hong Kong Blind Union respectively. Our guests will debunk common myths about workplace accommodation while sharing practical information on ways to create a supportive and accessible environment for employees with disabilities.
Register now by writing to
eoclub@eoc.org.hk
 on or before 13 December 2019 (Friday) with the name(s) and email address(es) of the attendee(s). Places are limited and priority will be given to EO Club members. Registrants will each receive a confirmation email by 18 December 2019 (Wednesday). For enquiries, please contact Ms Leung at 2106 2155.
Join the EO Club
Read the Code of Practice on Employment under the Disability Discrimination Ordinance
Download the EOC's guide on "Equal Opportunities in Employment: Good Management Practices"
4
---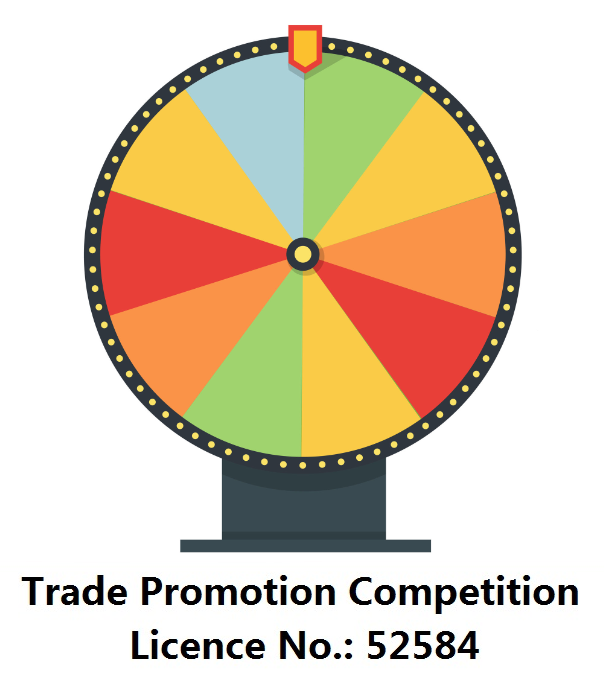 The EOC Smart Phone App Lucky Draw has successfully concluded on 20 November 2019. Members of the public were encouraged to download the EOC Smart Phone App and enter the lucky draw for a chance to win an a 7.9-inch, 64GB iPad mini (Wi-Fi + Cellular). Fifty supermarket gift coupons each valued at $100 were also among the prizes. The results were published in
Sing Tao Daily
and
The Standard
on 27 November 2019. The winner list can be found on the EOC website (
www.eoc.org.hk
) as well. 
The EOC app was launched in 2013 to provide on-the-go information on the four anti-discrimination ordinances and latest news about the Commission's programmes. Users can also view videos and listen to radio shows about diversity and inclusion. Equipped with features such as a voice-over function and an option to switch to a yellow-text-against-black-background version, the app is compliant with the Level AA requirements of the World Wide Web Consortium Web Content Accessibility Guidelines.
View the winner list
Download the EOC app on App Store
Download the EOC app on Google Play
---