1. "Though I am blind, I am still able to see the world."
The EOC supports equal opportunities for people with visual impairment and universal accessibility
On the upcoming occasions of World Sight Day (13 October) and International White Cane Day (15 October), the EOC calls on Hong Kong society to provide equal opportunities to people with visual impairment. Many people with visual impairment continue to face significant barriers in life, including finding employment or accessing premises. Their struggle is the subject of our new documentary, The Silver Lining of a Cloud, now available on our YouTube channel.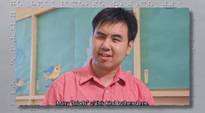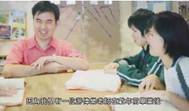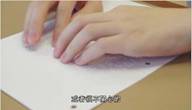 Technology can play a key role in lowering obstacles for people with visual impairment. To foster an inclusive digital society, the Hong Kong Blind Union is organizing a seminar on web accessibility with the aims of eliminating barriers for web users with visual impairment. The seminar, supported by the Internet Society Hong Kong Chapter and the EOC, will introduce the basics on creating accessible websites to the public.
Date : 5 November, 2011 (Saturday)
Time : 2:30 to 5:00pm
Venue : 1/F, HKPC Building, 78 Tat Chee Avenue, Kowloon, Hong Kong
Language : Cantonese (with English terminology)
Watch The Silver Lining of a Cloud
Enquiries (seminar on web accessibility): Mr. Lau 2339-0666 (Hong Kong Blind Union)
*********************************************
2. Stop the Stigma against People with Mental Illness
The EOC supports Mental Health Month and urges greater awareness about mental health issues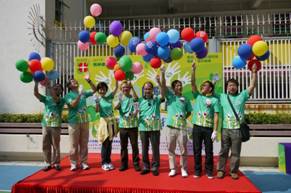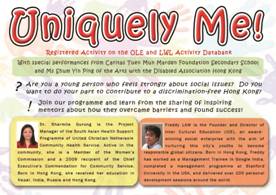 *********************************************
3. Uniquely Me!
Register now for the EOC's youth development programme
The next session of our English-language youth development programme, "Uniquely Me!", is now open for registration. In addition to youth performances, the afternoon will feature inspiring sharing on pursuing one's dreams and finding success from two guest mentors: Dr. Sharmila GURUNG, the Project Manager of the South Asian Health Support Programme of United Christian Nethersole Community Health Service, and Mr. Freddy LAW, the Founder and Director of Inter-Cultural Education, an award-winning social enterprise. All youths welcome!
Date : 30 October 2011 (Sunday)
Time : 2:30-5:30pm (Registration opens at 2pm)
Venue : Conference Room, EOC, 19/F Cityplaza Three, 14 Taikoo Wan Rd,
Taikoo Shing
*********************************************
4. Gender Equality for All
Upcoming symposium brings together experts from Asia and Europe to discuss gender equality policymaking
On 15 October 2011, the EOC Chairperson, Mr. LAM Woon-kwong, will be a panel speaker at the Symposium on Gender Equality Policies in Asia and Europe 2011, which will be held at the Chinese University of Hong Kong (CUHK). The event aims to facilitate the exchange of experiences and ideas on promoting gender equality through policymaking in European and Asian countries. The symposium is jointly organized by the Office of the European Union to Hong Kong and Macao, the Consulates General of the EU Member States and the Gender Research Centre, Hong Kong Institute of Asia-Pacific Studies of CUHK.
Date : 15 October 2011 (Saturday)
Time : 9:00am-12:35pm
Venue : Lecture Hall 1, Cheng Yu Tung Building, The Chinese University of Hong
Kong (adjacent to University MTR Station)
Enquiries: 3943-8775 (Ms Lo)
Stay updated on the EOC's work and positions by referring to our press releases, speeches, media interviews, and calendar training on our website. Also, stay tuned on other equal opportunities issues and community initiatives by visiting our community resources and community events pages for information from our community partners, including publications, survey reports, publicity campaigns, and upcoming conferences.