News From EOC
平 機 會 電 子 通 訊
20 January 2012
Issue 44
The Equal Opportunities Commission wishes you a Happy and Healthy Year of the Dragon! We look forward to working with you to build an inclusive and harmonious society.
All Franchised Buses to be Wheelchair Accessible by 2015/16


The EOC's Policy and Research Committee promotes barrier-free access in public transport services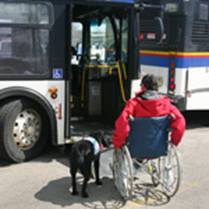 "Public transport facilities and services should be made accessible to all." This is a key message from the EOC's Policy and Research Committee (PARC), who met on 19 January 2012. PARC Members advocated that public transport facilities and services, must cater to the needs for all, including people with disabilities. Members noted the written assurance from the Secretary for Transport and Housing that a series of improvements to franchised buses are in hand, that by the end of 2012, all franchised buses will be equipped with visual and/or audio bus stop announcement system, and that by 2015/16 all franchised buses will be wheelchair-accessible.

Read the press release

*********************************************
EOC Gives Legal Assistance in Pregnancy Discrimination Case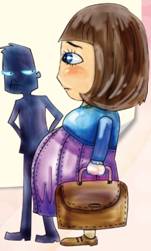 On 19 January 2012, the EOC initiated legal proceedings under the Sex Discrimination Ordinance, Cap. 480 in the District Court on behalf of a woman who alleged that her employer discriminated against and dismissed her on the basis of her pregnancy. Her dismissal occurred on the day she resumed work from maternity leave. Many women continue to face discrimination at work due to their pregnancy. By giving legal assistance in this case, the EOC hopes to raise public awareness about pregnancy discrimination and help eliminate such prejudices from the workplace.

Read the press release
Read about successfully conciliated pregnancy discrimination cases
View the EOC's Pregnancy Discrimination leaflet

*********************************************
EOC Awarded Merit Prize in the 2011 Top 10.hk Website Competition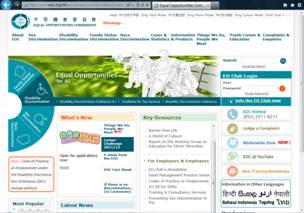 The EOC has been awarded a Merit Prize in the 2011 Top 10 .hk Website Competition for the SME category. Organized by the Hong Kong Internet Registration Corporation Ltd. (HKIRC.hk), the competition was divided into two groups, Corporates and SMEs, with a total of 11 awards. Aside from overall aesthetic and innovation, one of the judging criteria this year is the new 'Web Care' element, which commends websites catering to the needs of people with disabilities by facilitating barrier-free access to the internet and online information. The EOC is very encouraged by the recognition of our website's accessibility and usefulness for all. We pledge to continue to advocate for universal access to websites.

Read the press release
*********************************************
Break Down Stereotypes


EOC's youth programmes feature the success story of Mr. Jaspal Singh BINDRA of Standard Chartered Bank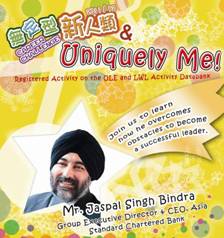 Any effort to combat discrimination must begin with young people. The EOC's two youth mentorship programmes, Career Challenge and Uniquely Me!, seek to empower Hong Kong's young people to combat stereotypes. On 4 February 2012, they will have the opportunity to learn from the experiences of Mr. Jaspal Singh Bindra, Group Executive Director and Chief Executive Officer, Asia of the Standard Chartered Bank, who will be the Guest Mentor of the joint session. Space is limited so sign up now!

Date: 4 February 2012
Time: 3:00-5:00pm (Registration begins at 2:30pm)
Venue: Conference Room, EOC, 19/F Cityplaza Three, 14 Taikoo Wan Rd, HK
*This event is conducted in English.

To find out more information about this session and other events for youths, as well as inspiring video clips and links to informative speeches and websites, please visit the programmes' Facebook pages. Add us as friends and stay updated on equal opportunities issues!

View the joint sharing session's poster
Find Career Challenge on Facebook (Chinese)
Find Uniquely Me! on Facebook (English)
*********************************************
"On a Clear Day – if there is NO DISCRIMINATION"


Tune in to the EOC's Commercial Radio programme

The last episode of the EOC's radio segment, "On a Clear Day – If there is NO DISCRIMINATION," launched in November 2011, will be on 3 February 2012. The segment advocates the theme of working together to eliminate discrimination, and is currently broadcast every Friday between 8-9am on Commercial Radio 1. The programme has featured a number of speakers, including the EOC Chairperson and the four Convenors of the EOC Committees. They explained equal opportunities concepts and the laws, using real-life case analysis on the programme. Listen to the previous episodes to learn more about how equal opportunities matter in your life.

Listen to all the previous episodes of the show
Stay updated on the EOC's work and positions by referring to our press releases, speeches, media interviews, and calendar training on our website. Also, stay tuned on other equal opportunities issues and community initiatives by visiting our community resources and community events pages for information from our community partners, including publications, survey reports, publicity campaigns, and upcoming conferences.