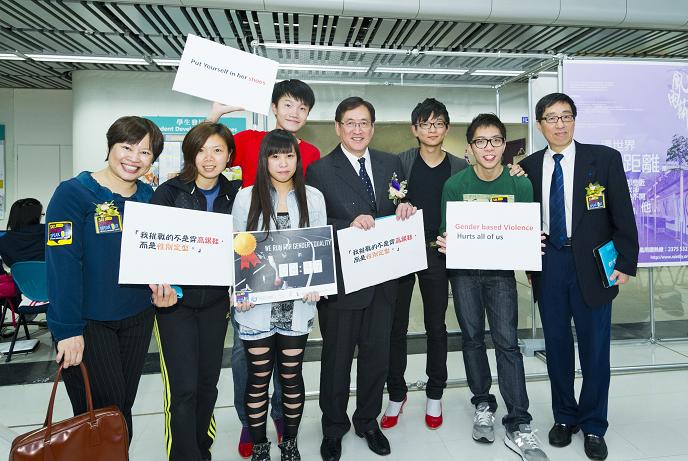 Since assuming office as the Chairperson of the EOC on 1 April 2013, Dr. York CHOW Yat-Ngok has participated in a number of community events and met with a wide range of stakeholders including representatives from non-governmental organisations, advocacy bodies, and religious groups. The meetings, to be continued in the upcoming months, provide a platform for different sectors of society to voice their concerns and views on issues relating to equal opportunities and inclusion for all. In the meetings, Dr. Chow reiterated the EOC's commitment to safeguarding everyone's right to equal opportunities and non-discrimination.
*********************************************

To facilitate access to online information and services by all segments of the community including persons with disabilities, the Office of the Government Chief Information Officer and the EOC co-organised the "Web Accessibility Recognition Scheme." The Scheme aims to recognise businesses and organisations which have made their websites accessible, with an aim to widen adoption of web accessibility features and design. Participating organisations also received free advisory support to improve the accessibility of their websites. The Web Accessibility Recognition Scheme Awards Presentation Ceremony was held on 15 April 2013 as one of the signature events at the first-ever International IT Fest.

More information about the Web Accessibility Recognition Scheme
List of 2013 Gold and Silver awardees
*********************************************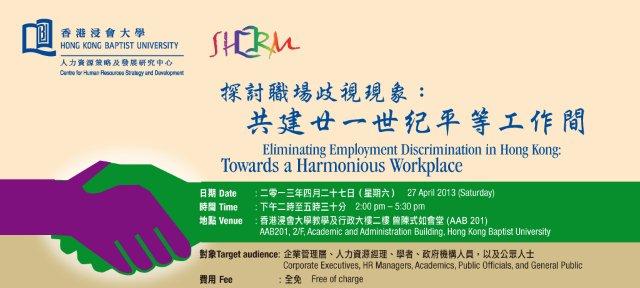 Employment-related discrimination remains a serious issue and continues to contribute to the majority of complaints lodged to the EOC. It is important, both for the company's bottom line and for social good, that employers, human resource practitioners, and policymakers to promote equal opportunity values in the workplace. To address this issue, the Centre for Human Resources Strategy and Development of Hong Kong Baptist University is organising the seminar, "Eliminating Employment Discrimination in Hong Kong: Towards a Harmonious Workplace." The EOC Chairperson, Dr. York CHOW Yat-Ngok, will be one of the speakers at this seminar, which aims to identify various forms of discrimination in employment, increase awareness on the current situation, and explore ways to establish a discrimination-free workplace.

 
Date:
27 April 2013 (Saturday)
Time:
2:00pm – 5:30pm
Venue:
AAB201, 2/F Academic and Administration Building
Hong Kong Baptist University
*This seminar is free-of-charge and will be conducted in Cantonese.
*********************************************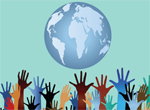 Many ethnic minorities face linguistic barriers to full participation in various areas of daily life. To facilitate communication and social integration, Hong Kong Christian Service's Centre for Harmony and Enhancement of Ethnic Minority Residents (CHEER) will be holding two briefing sessions on its interpretation and translation services, sponsored by the Home Affairs Department. The briefing will address the daily life and culture of ethnic minorities and introduce CHEER's Telephone Interpretation and Translation Services, including sharing on how to work with interpreters effectively.
 
Date:
26 April 2013 or 10 May 2013 (Friday)
Time:
3:00pm – 5:00pm
Venue:
HKCS CHEER (G/F, 5 Tsui Ping, Road, Kwun Tong)
Language:
Cantonese or English
Enquiries and registration:
Tel: 3106 3104
Email: cheer@hkcs.org
*********************************************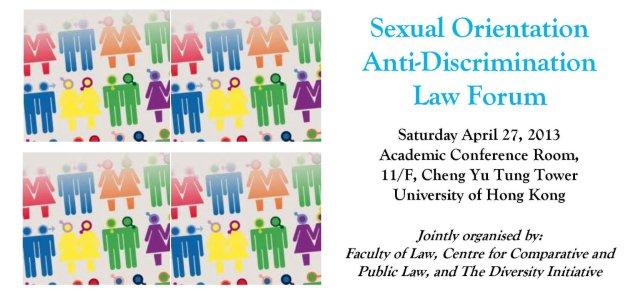 The Faculty of Law, the Centre for Comparative and Public Law, and the Diversity Initiative of the University of Hong Kong will be jointly organising a forum to examine the debate on sexual orientation anti-discrimination legislation in Hong Kong. It will consist of four panels, centred on business perspectives; the relationship between religion and sexuality; European/international law; and domestic law respectively. It aims to bring together politicians, judges, legal scholars, and people in the business community to discuss the pros and cons of consultation and legislation. All are welcome. Please email Flora Leung at fkleung@hku.hk for more information or to reserve a place. 

 
Date:
27 April 2013
Time:
10:00am – 5:15pm
Venue:
Rayson Huang Theatre,The University of Hong Kong
*This forum is free-of-charge and will be conducted in English.
*********************************************
The Employees Retraining Board (ERB) has published its new course prospectus of training for ethnic minorities for the period of April – September 2013. The full-time and part-time courses aim to assist eligible participants to widen their job opportunities in different industries, including hotel, business, catering, and social services, as well as to enhance their social integration and career advancement. For more information and course details, please see the below link.

Training for Ethnic Minorities - Course Prospectus
More about the ERB
*********************************************
Visit our website or download the EOC mobile app (Apple App Store / Google Play) to stay updated on the EOC's work and positions, and to review our press releases and calendar training. Also, stay tuned on other equal opportunities issues and community initiatives by visiting our community resources and community events pages for information from our community partners, including publications, survey reports, publicity campaigns, and upcoming conferences.