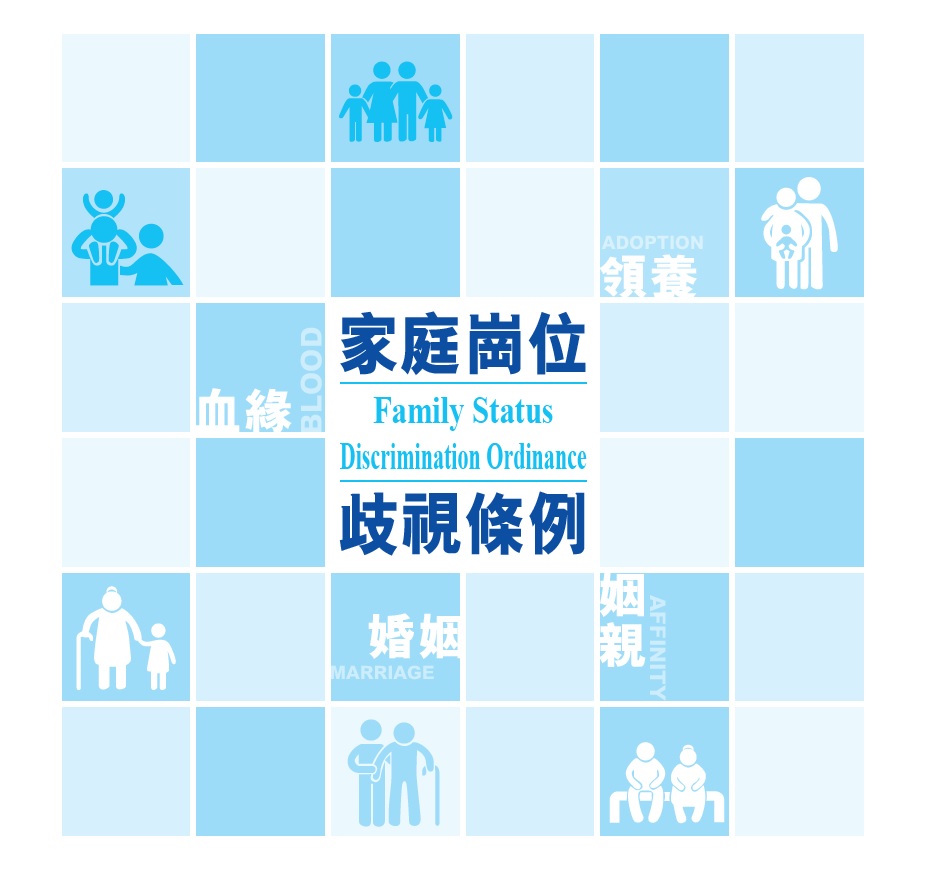 The EOC announced findings of a study on workplace discrimination against persons with family status in Hong Kong on 22 August 2018. Sampling 407 employers and 1,003 employees via telephone surveys, the study revealed a common lack of clear knowledge about what constitutes family status discrimination under the Family Status Discrimination Ordinance (FSDO). Still, 7.8% of the surveyed employees with family care responsibilities reported having experienced discrimination in the past two years, citing unfair treatment in the recruitment process and difficulties in applying for leave to tend to children and elderly family members.
In particular, women with a lower educational level and without recourse to alternative care systems are among the most vulnerable. The problem is exacerbated in labour intensive industries, such as import/export, wholesale and retail, and accommodation and food services. A separate explorative survey of employer preferences in the same study also found that when a woman responsible for the care of elderly parents applies for a senior position, her chance of landing the job is 24.5% lower than when she applies for an entry-level opening.
"There is obviously a gendered dimension in family status discrimination, with caregivers widely perceived by default as female," said Professor Alfred CHAN Cheung-ming, Chairperson of the EOC. "The bottom line is, people should not be penalised at work for shouldering the responsibility of looking after their family members. We therefore suggest providing more training for employers to develop better understanding of the FSDO, exploring the possibility of adopting a paid family leave policy while being sensitive to the operational needs of SMEs, as well as allocating more resources for day-care centres to expand their services and make them more affordable. Only through a collaborative and sustained effort can we build a family-friendly workplace and culture in Hong Kong."
Read the full report
View major findings with our infographics
About the FSDO
*********************************************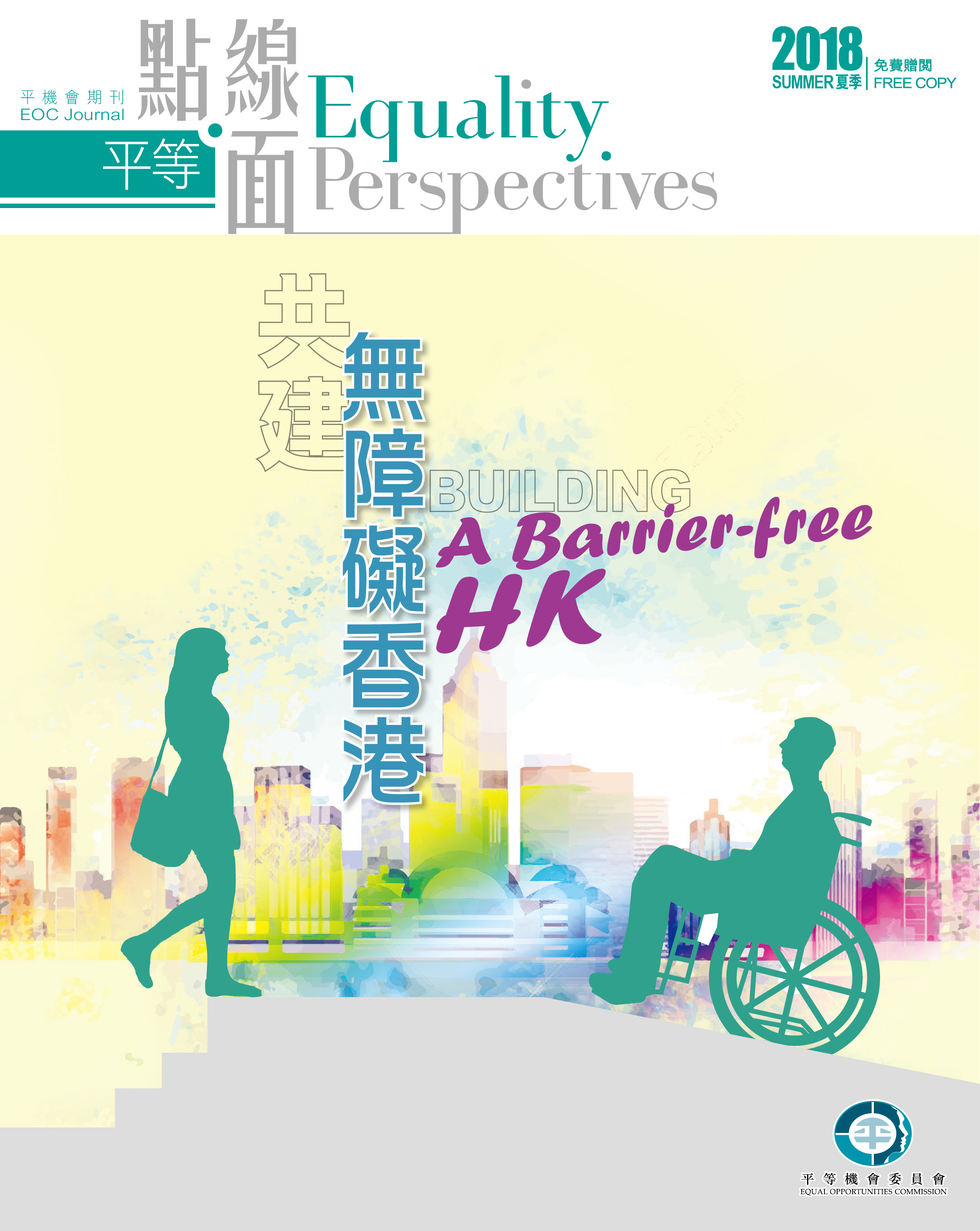 On 13 August, the EOC published the summer issue of its half-yearly journal
Equality Perspectives
, which was distributed to major business districts  through the
Hong Kong Economic Times
.
This issue closes in on the subject of accessibility and encourages readers to walk a mile in the shoes of persons with disabilities (PWDs). Drawing on the Convention on the Rights of Persons with Disabilities, the introduction reviews how accessible our city is – both the good and the bad – and stresses that disability arises not from an individual, but from barriers in the environment. It is followed by a deep-dive story on the challenges of enhancing the accessibility of public premises in Hong Kong, and a feature story about movies and matters of the heart – exploring how we could ensure equal access to art and entertainment for PWDs, and how their yearning for intimacy could be better accommodated.
The urgency for the Government to amend the Disability Discrimination Ordinance by introducing a distinct duty to provide reasonable accommodation for PWDs, as recommended by the EOC in its submission under the Discrimination Law Review (DLR) in 2016, cannot be overemphasised. By highlighting this in the journal, the EOC hopes to fulfil its commitments under its Strategic Plan 2016-19, specifically to solicit public support for the DLR recommendations, drive legislative change, and advance equal opportunities for PWDs.
*********************************************

The EOC's 2018 fall training programme is now open for enrolment. Spanning from mid-September to late November, the programme features four free courses touching on the Commission's role, the anti-discrimination ordinances, racial inclusion in the workplace, sexual harassment and the notion of vicarious liability. These are complemented by six paid courses that offer an in-depth look at how to formulate and implement human resources (HR) policies free from discrimination based on sex, marital status, pregnancy, family status and race, as well as a sound and transparent complaint-handling mechanism. Business owners, HR practitioners and managers would find the latter particularly pertinent to their daily work.
Interested parties should register at least seven working days prior to the date of the relevant course. Places are assigned on a first-come, first-served basis. For enquiries, please contact the EOC at 2106 2155 or eoc@eoc.org.hk.
View the course schedule
Read the course content
Enrol online
*********************************************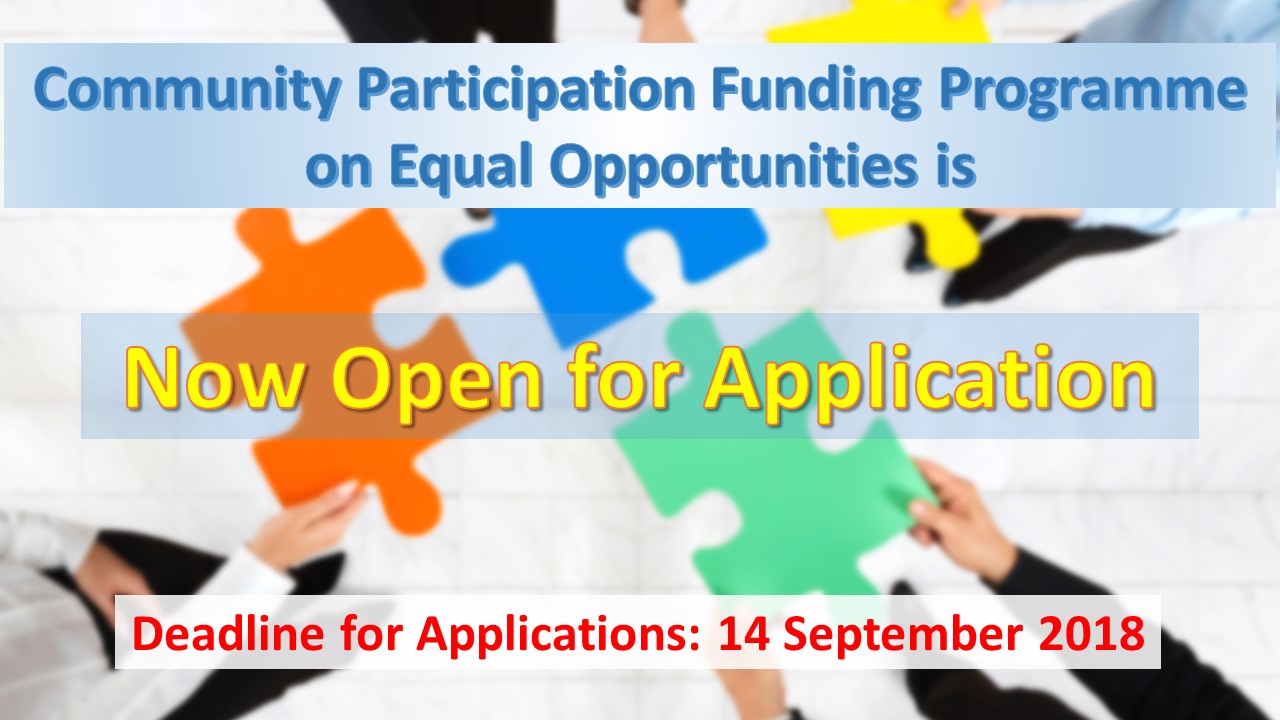 Whether you are a newly founded non-profit organisation with myriad plans to tackle social prejudice or a veteran equality advocate looking to scale up an established initiative, there will be times you need help oiling the wheels. The EOC's Community Participation Funding Programme may just be that injection of financial support you are looking for – each project approved under the programme receives a maximum of HK$50,000, and applications for the year 2018/2019 are now being accepted until 14 September 2018.
Public education holds the key to overturning biased assumptions and putting the brakes on the discrimination they breed. The programme aims exactly at encouraging NGOs, schools and other community groups to innovate campaigns that promote concepts of anti-discrimination and equal opportunities. From talks for foreign domestic workers to sign language singing competitions and TV Announcements in the Public Interest (APIs) demystifying HIV and AIDS, past funded projects have made an impact each in their own way.
Apply now to make your mark on the equality landscape!
Find out more about the programme
Download the application form
*********************************************
Visit our website or download the EOC mobile app (Apple App Store / Google Play) to stay updated on the EOC's work and positions, and to review our press releases and calendar training. Also, stay tuned on other equal opportunities issues and community initiatives by visiting our community resources and community events pages for information from our community partners, including publications, survey reports, publicity campaigns, and upcoming conferences.