Although diversity is a buzzword in the business sector today, gainful employment remains a pipe dream for many ethnic minorities (EM) in Hong Kong. According to data released by the Government last year, one in every five EM households in our city were living below the poverty line in 2016. For actual change to happen, we need companies who "walk the talk" to inspire more to remove barriers for EMs climbing the economic ladder.
In this spirit, the EOC organised on 2 August 2019 a roundtable among representatives from three signatories of the Racial Diversity & Inclusion Charter for Employers (the Charter). Joining the panel were Ms Esther BLYTHE, Deputy Consul General of the British Consulate-General Hong Kong; Mr Henry LING, Global Director, Operations, Asia Pacific of Dow Chemicals; and Mr Sudesh THEVASENABATHY, Head of Contact Centre Transformation from AXA HK. The discussion explored a range of corporate initiatives that could help to promote racial diversity and inclusion in the workplace, and was followed by a workshop on cultural intelligence building conducted by Ms Lazara CANTON, Senior Consultant of Bridge-Partnership.
Welcoming the audience which hailed from over 40 organisations, EOC Chairperson, Mr Ricky CHU Man-kin said, "The Racial Discrimination Ordinance has been in place for a decade now, but I believe equality could not be achieved solely by enforcement of the law. Equality goes further beyond that, as it is just as important for us to promote the value and principle of equality by setting up effective and practical policies and guidelines, as well as to enhance awareness by education. With our joint and diligent effort, I firmly believe that we can build a level playing field for EMs."
One way to kickstart that effort is by becoming a signatory of the Charter. Launched by the Commission in August 2018, it suggests best practices for businesses determined to create a racially diverse and inclusive workplace. Signatories are entitled to feature the Racial Diversity & Inclusion logo in their job ads and marketing collaterals. More than 70 orgnanisations have come on board to date – join them now by clicking the link below!
Find out more about the Charter
Read the EOC Chairperson's speech
2
*********************************************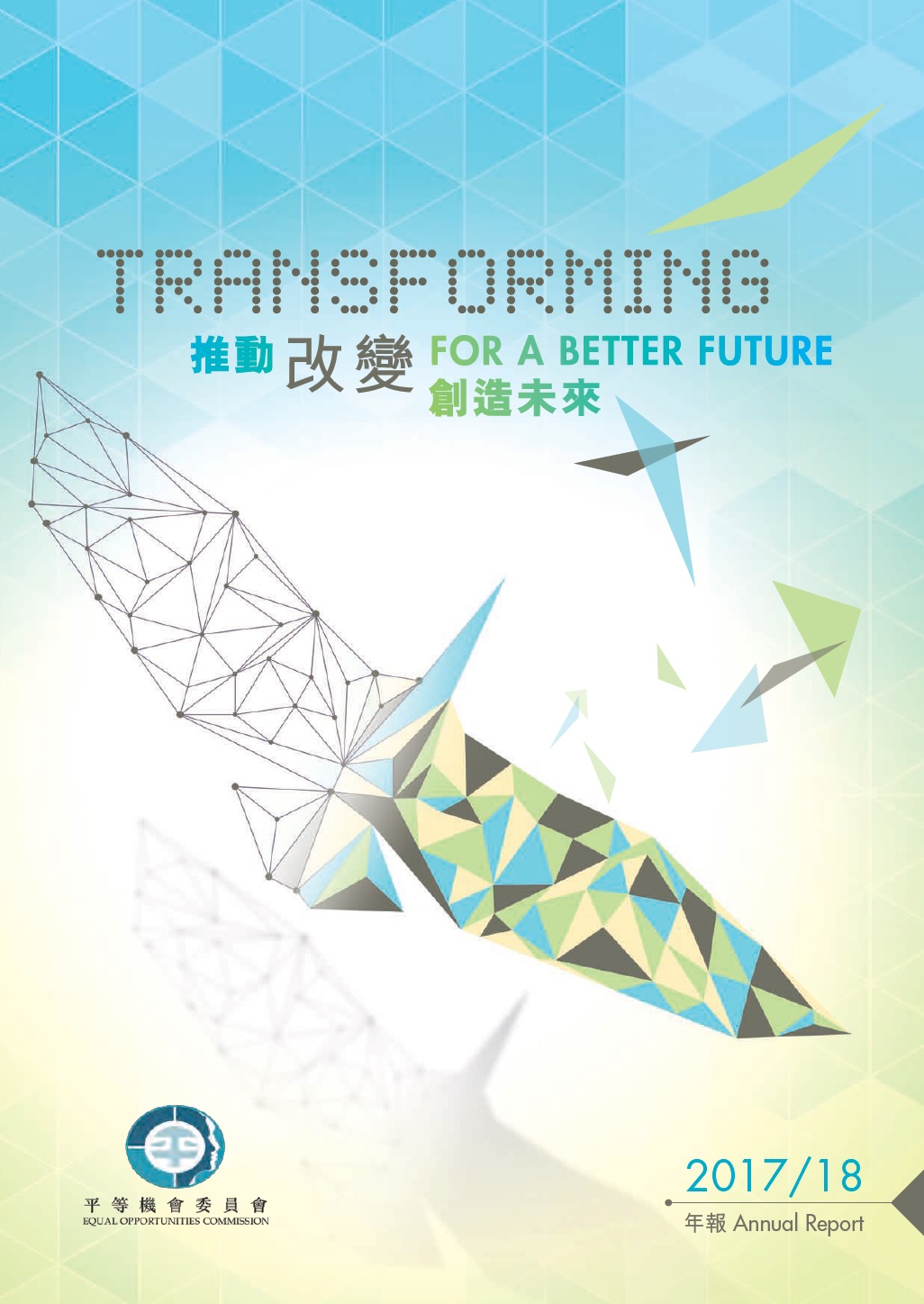 The EOC's 2017/18 Annual Report has recently garnered a Silver Award at the 2018 Vision Awards Annual Report Competition, organised by the League of American Communications Professionals LLC (LACP). Established in 2001, the LACP serves as a forum for discussing best-in-class practices within the PR profession and recognising exemplary communications capabilities. The Vision Awards this year drew submissions from nearly 1,000 organisations across a variety of industries.
Featuring the image of an origami bird spreading its wings and soaring towards an azure sky, the cover of the EOC's 2017/18 Annual Report echoes the theme, "Transforming for a Better Future" and delights the eye with uplifting shades of blue and green. It visualises the EOC's tireless effort in reinventing itself to reach new heights and make a greater impact on Hong Kong's equality landscape.
*********************************************

Society is changing, and sexuality education has to keep up. How can we equip students with ideas of consent and respect, for example, as they plunge into the world of online dating? How can we tailor sexuality education to the needs of students with disabilities and learning difficulties? What hurdles do we have to overcome in teaching about gender and sexual diversity?
These are some of the many issues to be addressed at the 7th Asian Conference on Sexuality Education, co-organised by The Family Planning Association of Hong Kong and the Department of Special Education and Counselling of The Education University of Hong Kong. Themed "Challenges of Sexuality Education: Inclusion, Relevance, Comprehensiveness", the conference will take place on 18-19 October 2019 at The Education University of Hong Kong. Led by scholars, sex educators, certified sex therapists and veteran NGO workers, the panel discussions and workshops will allow policymakers, school management, teachers, parents and other stakeholders to reflect on the latest developments in sexuality education across Asia and exchange their knowledge and experience.
The EOC is honoured to be one of the supporting partners of the event. Indeed, sexuality education is closely tied to one of the Commission's statutory functions, namely, eliminating sexual harassment. To be able to refrain from or speak out against sexual harassment, one needs to have a sense of respect for bodily autonomy and relate to values of gender equality. Cultivating these concepts among the younger generation, therefore, must be made a fundamental objective of sexuality education, as the EOC recommended in a submission to the Education Bureau (EDB) in October 2018.
For more details on the conference and the EOC's 2018 submission to the EDB, please click the links below.
Register for the conference
View the programme rundown
Check out the speaker line-up
Read the EOC's submission
4
*********************************************

From glass ceilings and motherhood penalty to body shaming and sex negativity, the modern-day woman remains shackled by prejudice, stereotypes and taboos on her path to autonomy and empowerment. The Women's Festival, which is entering its second edition this year, seeks to bring to light these tribulations of womanhood, while celebrating "self-love, self-care and self-expression" with an eclectic mix of workshops, talks, music shows and film screenings from 23 August to 1 September. Whether you are looking to become a "momtrepreneur", get to know more about ethnic minority women in Hong Kong, or rethink your religion from a gender-conscious perspective, there is something in the programme to suit your interests and aspirations.
Organised by Eaton HK, Sally Coco and Reel Women Hong Kong, the festival contributes part of its ticket proceeds to women's support groups, including Rainlily, HER Fund, the Hong Kong Women Worker's Association and the Association of Women with Disabilities Hong Kong, among others.
*********************************************
Visit our website or download the EOC mobile app (Apple App Store / Google Play) to stay updated on the EOC's work and positions, and to review our press releases and calendar training. Also, stay tuned on other equal opportunities issues and community initiatives by visiting our community resources and community events pages for information from our community partners, including publications, survey reports, publicity campaigns, and upcoming conferences.