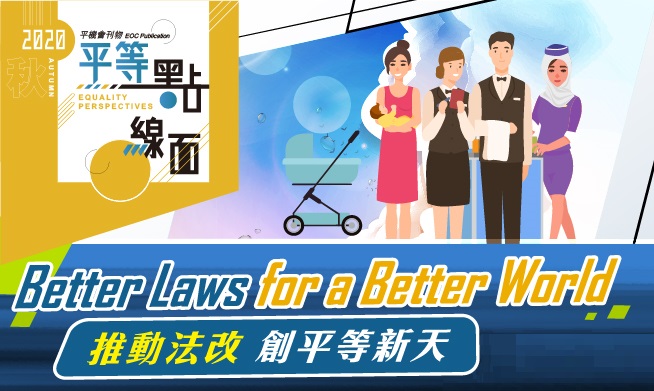 Will you be eating out this weekend? Do you plan on volunteering for any organisation? And if you are an employer, do you have any interns working for you? How about employees who breastfeed? If your answer to any of these questions is affirmative, then it would be in your interest to learn about the latest amendments to Hong Kong's anti-discrimination ordinances. A good place to start is the Autumn edition of the EOC's journal, Equality Perspectives published last week.

Implemented by the Discrimination Legislation (Miscellaneous Amendments) Ordinance 2020, the amendments may appear abstract and hard to understand at first glance, but they represent a significant step forward in protections from various forms of discrimination and harassment, and have a profound impact on many sectors of public life – from work and education-related settings to the provision of goods, services and facilities.

Breaking down these changes in simpler terms, the journal offers a comprehensive look at their legal scope and effect, before addressing continued gaps in the law and the need for further reform.

Also available on the EOC website is a separate guidance on the amendments, complete with practical examples of possible contraventions of the amended ordinances, as well as recommendations on  good practices for employers and other stakeholders to prevent discrimination and harassment in relevant areas of the law.
---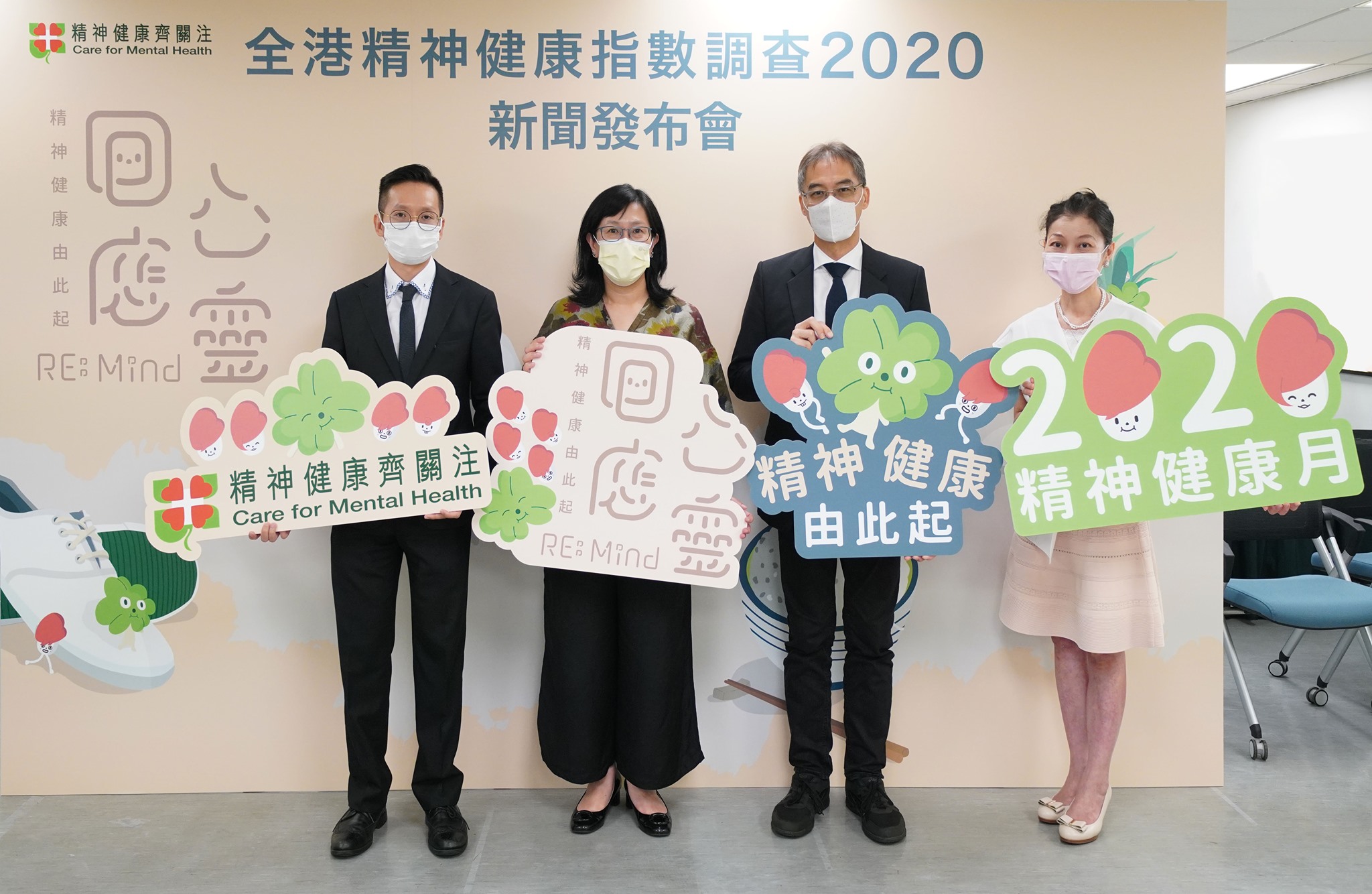 Hongkongers' mental health scored at 45.12 on average in 2020, a record low since the survey was launched in 2012 as part of "Mental Health Month", an annual awareness campaign co-organised by rehabilitation groups and public bodies, including the EOC.

Sampling 1,002 citizens aged 15 or above last year, the survey adopted the World Health Organization's Five Well-Being Index (WHO-5), which presents respondents with five statements and asks them to rate, among other things, how often they felt cheerful, relaxed, rested, and interested in things happening in daily life over the two weeks prior to taking the survey.

A score of 52 is generally agreed to be the passing score, and for three years in a row the average Hongkonger has failed to hit the mark. Men, people aged 15-34, and those working full-time were among some of the most vulnerable groups.

Over 60% of the respondents said that controversies sparked by social issues had an extremely or fairly negative impact on their mental health during early 2020. The figure dropped slightly to 54.5% in mid-2020.

Another significant factor was COVID-19, with almost 40% of the respondents saying the pandemic had made an extremely or fairly negative impact on their mental health.

More than 40% said they experienced a traumatic event in the past year, with nearly 75% attributing it to social turmoil in Hong Kong. Worryingly, a quarter of these respondents may have developed post-traumatic stress disorder, exhibiting a series of symptoms, such as being extra alert to signs of danger in one's surroundings, feeling anger whenever one thinks about the incident, reliving (i.e. remembering) it from time to time, and suffering frrom insomnia or not sleeping well.

Speaking at a press conference on 9 September 2020, the Organising Committee of "Mental Health Month" called on all sectors of the community to engage in genuine dialogue over social issues and seek out solutions collectively. As over 40% of student respondents indicated that their studies had made an extremely or fairly negative impact on their mental well-being, the committee also recommended stepping up training for teachers and social workers in order to better identify students who need emotional support and to help them develop resilience and de-stressing techniques.

For more information about the survey and campaign, please click the link below.
Follow "Mental Health Month" on Facebook (Chinese only)
3
---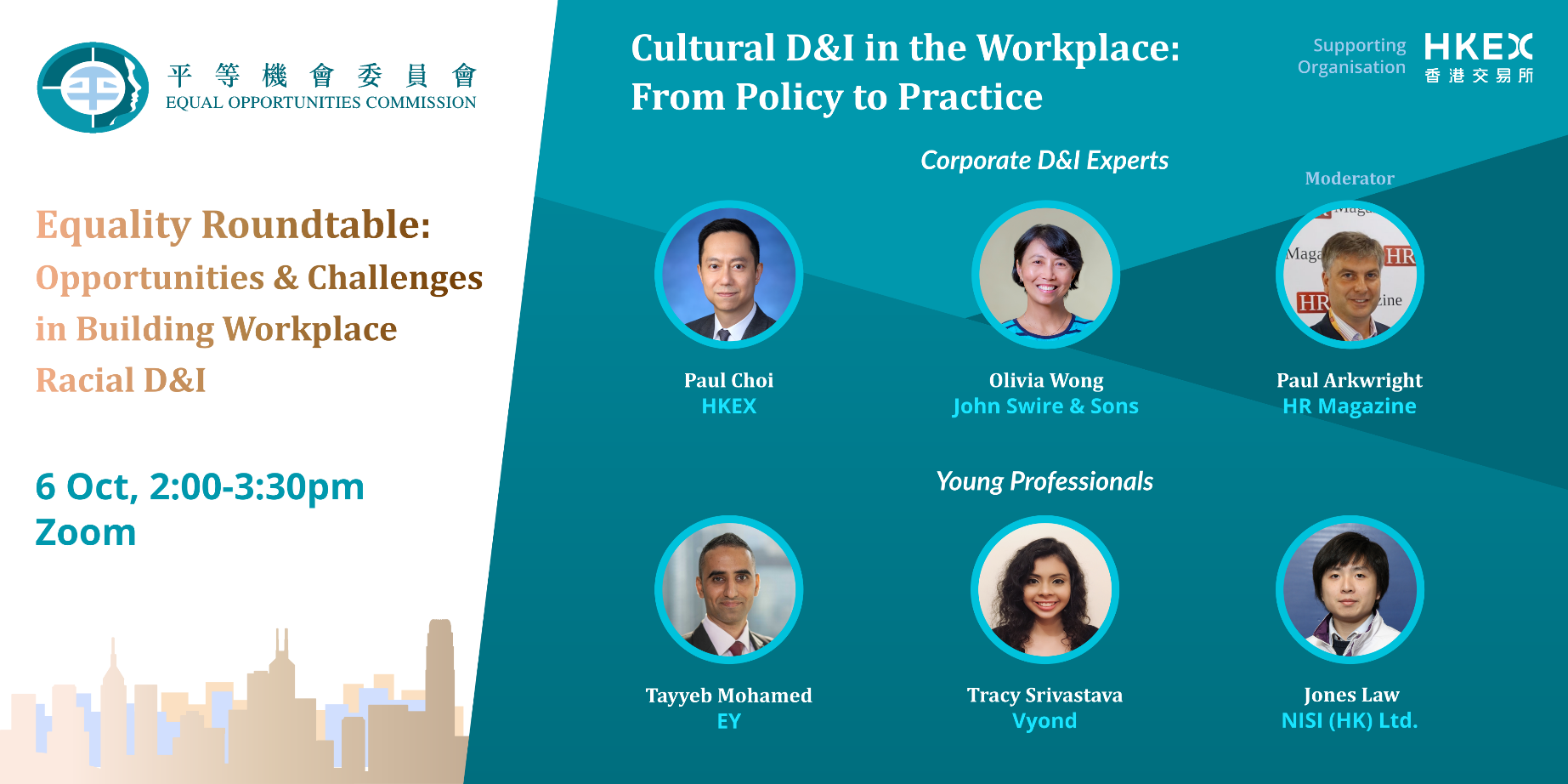 Racial diversity and inclusion (D&I) in the workplace is more than a matter of policy. Without concrete and sustained practices, policy will not translate into progress.

Join us on 6 October 2020 (Tuesday), 2pm-3:30pm for a virtual roundtable entitled "Opportunities and Challenges in Building Workplace Racial D&I", supported by HKEX. You will hear from a panel of corporate representatives about how to put D&I commitments into practice, as well as young professionals from ethnic minority backgrounds about their experience at work. EOC Chairperson, Mr Ricky CHU Man-kin will also attend the event and deliver closing remarks.

The panelists include Mr Paul CHOI, Group Head of Human Resources (Acting) of HKEX; Ms Olivia WONG, Group Head of Diversity & Inclusion of John Swire & Sons; Mr Tayyeb MOHAMED, Manager (Transfer Pricing) of Ernst & Young Tax Services Ltd; Ms Tracy SRIVASTAVA, Project Manager of Vyond; and Mr Jones LAW, Mechanical Engineer of NISI (HK) Ltd. The discussion will be moderated by Mr Paul ARKWRIGHT, Editor-in-chief of HR Magazine.

The webinar will be conducted in English. To register, please click the link below.
---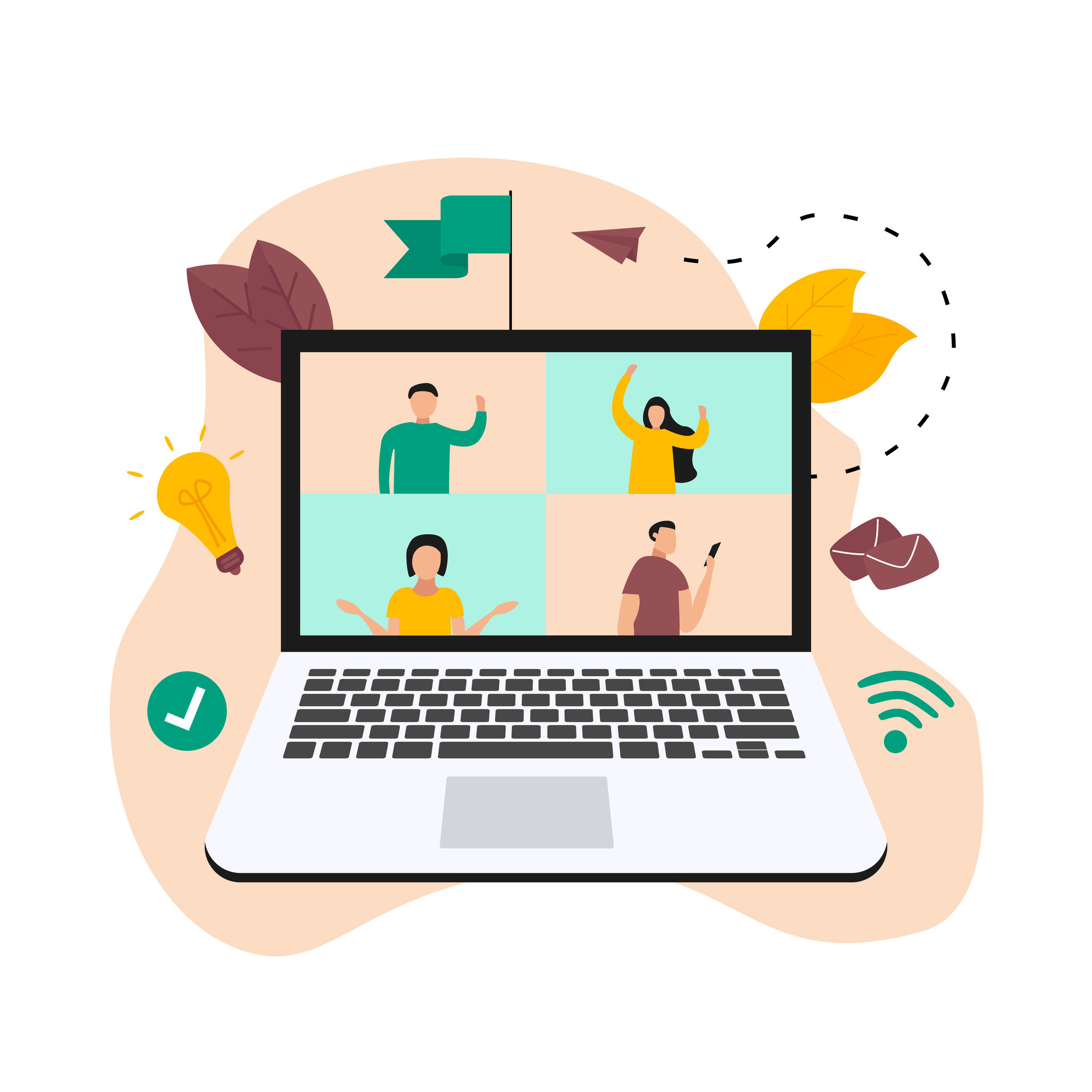 The EOC is now accepting applications for training workshops in its 2020 Autumn programme. On offer are four free-of-charge courses, namely, "Introduction to the Anti-discrimination Ordinances in Hong Kong", "Understanding Unlawful Harassment under the Anti-discrimination Ordinances", "Promoting a Culturally Inclusive Workplace" and a brand new course explaining the latest amendments to the ordinances that came into force in June 2020. Five paid courses are also available, focusing on more specific issues such as preventing sexual harassment in the workplace, handling complaints, and managing recruitment and selection processes.

Running from early October to early December 2020, the courses are designed primarily for employers, HR practitioners and managers. Around half will be delivered online. Places are assigned on a first-come, first-served basis. Interested parties should register at least seven working days prior to the date of the relevant course.
 
The above programme is part of the EOC's larger effort to equip both private and public organisations with a sound and updated knowledge of the city's anti-discrimination laws and how they may apply in their day-to-day work. Just last month, the Commission hosted a webinar for members of its EO Club. A 70-strong audience showed up to hear from Dr Ferrick CHU, Executive Director (Operations) of the EOC and Mr Peter READING, Senior Legal Counsel of the EOC about the new protections for employees resulting from recent legislative changes, and examples of acts and policies that are likely to be unlawful under the amended laws.

As provisions prohibiting breastfeeding discrimination have been introduced and will be effective on 19 June 2021, Ms Jacy CHAN and Ms Kaeru CHAN, Chairperson and Committee Member of the Hong Kong Breastfeeding Mothers' Association respectively, were also present at the webinar to recount the obstacles they had come across when breastfeeding at work, while sharing tips on communicating one's needs as a breastfeeding woman to employers and co-workers effectively. They were joined by registered nurse Ms IP Sek-lan and Ms Jayla KAN, Community Engagement Officer from the UNICEF, who discussed, respectively, the benefits of breastfeeding and how to create a breastfeeding-friendly workplace with limited resources.

For enquiries about the EOC's Autumn training programme, please contact us at 2106 2155 or eoc@eoc.org.hk.
Learn more about our course offerings and schedule
Enrol online
About the EO Club
---