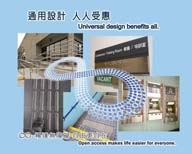 The EOC welcomes the Government's special scheme, announced on 21 August 2012, to install some 230 lifts in various public areas to supplement the present walkways, which will help people with disabilities and the elderly to get around town easier. Mr. LAM Woon-kwong, the EOC Chairperson, said, "The EOC supports the Government's initiatives to speed up the installation of barrier-free access in public places. This lift installation programme will benefit a wide spectrum of people, from wheelchair-users to parents with baby strollers. We are glad the Government has moved away from the mindset of doing the minimum and recognized the importance of universal access." The EOC hopes to see more government-led initiatives to enhance accessibility in Hong Kong's built environment and raise local awareness about the impact and importance of accessible architecture.
*********************************************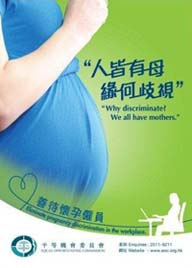 The appointment of Marissa Mayer as the new CEO of Yahoo! has generated a great deal of debate, in part because of her pregnancy. In his regular contribution to the column "On Second Thought" of the South China Morning Post on 20 August 2012, Mr. LAM Woon-kwong, the EOC Chairperson, questioned the common presumption among employers that pregnant women and working mothers are uncommitted workers. Mr. Lam pointed to stereotypical thinking surrounding childcare responsibilities and gender roles as a cause of discrimination still commonly faced by pregnant employees and working mothers. He urged the Government to do more to actively facilitate and promote family-friendly practices to enable parents to achieve family-work balance and relieve the pressure faced by women to choose between career and family. "After all, unevolved thinking on this front only squanders our women's talent," wrote Mr. Lam. "And surely that would benefit no one."

Read the acticle

*********************************************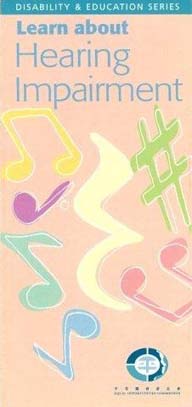 "Among people with physical disabilities, our friends with hearing impairment are among the most easily misunderstood," said Mr. LAM Woon-kwong, the EOC Chairperson, in his remarks at the Opening Ceremony of the 34th YMCA International Youth Camp for the Hard of Hearing on 1 August 2012. Mr. Lam called upon the society to take more proactive steps to assist people with hearing impairment, including strengthening training for teachers in mainstream schools to work with students with disability; developing and promoting sign languages; and providing more vocational and training opportunities for people with hearing impairment. "These tasks inevitably take time, but if we are determined, they are achievable," added Mr. Lam.

Read the speech


*********************************************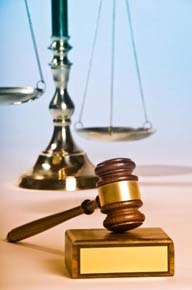 On 10 August 2012, the EOC issued legal proceedings under the Disability Discrimination Ordinance, Cap. 487 in the District Court, on behalf of a man whose employer had terminated his employment after he applied for sick leave to have heart surgery. By taking this case to court, the EOC hopes to raise public awareness as well as to remind employers that disability discrimination in the workplace is unlawful and reasonable accommodation for employees with disabilities should be provided.

Read the press release


*********************************************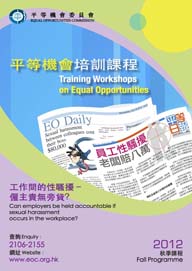 To continuously enhance public awareness of issues relating to discrimination and equal opportunities, the EOC provides calendar training workshops on the anti-discrimination ordinances and other related topics. In particular, the Fall 2012 calendar training will offer courses, "Preventing and Managing Sexual Harassment in the Workplace" and "Vicarious Liability," which aim to explore the issues of sexual harassment in employment settings and employers' liability, following a recent case where sexual harassment between colleagues resulted in their employer's paying HK$80,000 in compensation.

Fall 2012 Calendar Training


*********************************************

The EOC is a supporting organisation of the Women's Foundation's Mentoring Programme for Women Leaders 2012-13, now in its fourth year. The free-of-charge programme will match 50 high potential protégés with seasoned female mentors drawn from Hong Kong's successful businesswomen, entrepreneurs, women in media, NGO leaders and academics.

Details

Stay updated on the EOC's work and positions by referring to our press releases, speeches, media interviews, and calendar training on our website. Also, stay tuned on other equal opportunities issues and community initiatives by visiting our community resources and community events pages for information from our community partners, including publications, survey reports, publicity campaigns, and upcoming conferences.