Back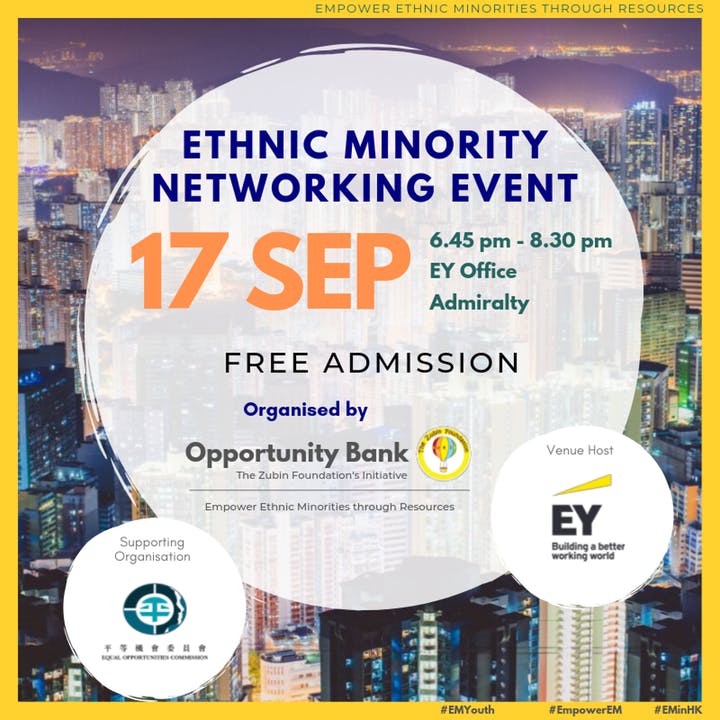 EOC supports networking event for ethnic minorities
Many in Hong Kong take pride in the city's competitive spirit. When driven to the extreme, however, it risks stigamising those who fall behind as losers and slackers, overlooking how opportunities are unequally distributed in our society.
It follows that providing platforms for disadvantaged groups to expand their networks and unlock more resources is of great importance. The EOC is therefore excited to be the supporting organisation of an upcoming networking event for young ethnic minority (EM) professionals and EM tertiary students, to be organised by the Zubin Foundation under its Opportunity Bank initiative on 17 September 2019, 6:45pm - 8:30pm at EY office, 22/F, Citic Tower 1, 1 Tim Mei Avenue, Admiralty. Themed "Dare to Dream" and boasting a robust line-up of corporate representatives, including signatories of the EOC's Racial Diversity and Inclusion (RDI) Charter for Employers, the free-of-charge event aims to connect EMs with employers and help the former discern the career paths open to them.
For details on registration and the speaker list, please click the link below.