THE RACIAL DIVERSITY AND INCLUSION CHARTER FOR EMPLOYERS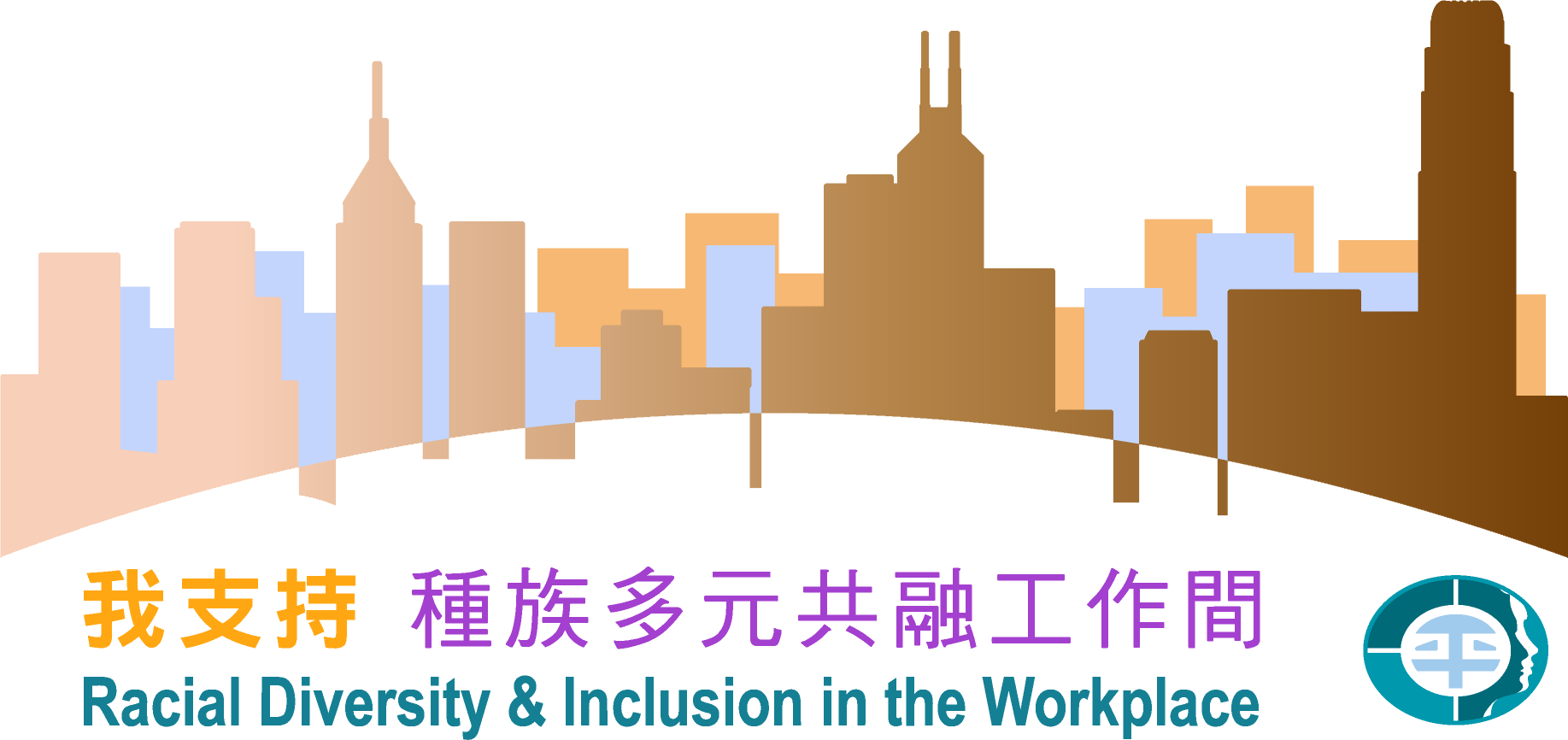 The Equal Opportunities Commission (EOC) is responsible for implementing the four anti-discrimination ordinances in Hong Kong, namely the Sex Discrimination Ordinance, Disability Discrimination Ordinance, Family Status Discrimination Ordinance and the Race Discrimination Ordinance.
A key strategic priority of the Commission is to ensure equal opportunities in employment for racial minorities. In order to encourage and promote racial diversity and inclusion (D&I) in the workplace, we would like to provide employers with guidelines and best practices. The Charter aims to give interested employers a checklist of policies and practices they can implement to further their D&I objectives.
The Charter
Implement racial equality and diversity policies for the organisation based on the principles of the Race Discrimination Ordinance (RDO) and the Code of Practice on Employment under the RDO.

Familiarise yourself with the RDO, particularly in its application in various aspects of employment.
Refer to the Code of Practice on Employment under the RDO to get practical guidance and identify areas in organisational policy that may need improvement based on the principles of the RDO.

Establish fair recruitment, appointment, promotion, staff development and dismissal processes and criteria that do not discriminate against any person or groups of persons on the ground of race.

Identify barriers, if any, for people of certain races in gaining employment in your organisation and take reasonable steps to bring down those barriers.
Actively seek, adopt and adapt international best practices to avoid bias in human resource management, particularly recruitment.

Review the employment processes and policies regularly to ensure relevance, fairness and absence of barriers for people of all races.

Critically and regularly review your workforce profile to evaluate for racial diversity. Analyse gaps and take corrective action wherever possible.
Carry out employee surveys, assessments, etc. to check for employee perceptions of fairness in processes and policies.

Raise awareness of the policies and principles of racial inclusion and the consequences of racial discrimination among staff through training courses, awareness campaigns, sharing of good practices, events and award schemes.

Identify and implement organisational activities or practices where racial inclusion can be made a possible primary or subsidiary goal.
Collect ideas and opinions from staff on how to facilitate an organisational culture that embraces racial diversity and inclusion.
Include this as an agenda item in annual planning for all departments.

Proactively encourage engagement with racial minorities from underprivileged and under-represented communities through recruitment as well as internship opportunities, on-the-job training, mentorship schemes and staff volunteering activities.

Consider including engagement with underprivileged racial minorities as one of the CSR initiatives for staff to choose from.
Find activities and initiatives that fit best the organisation's needs while also providing new and out-of-the-ordinary experiences for connecting your staff with racial minorities.
Explore a mix of engagement opportunities to meet diverse needs, such as short-term job shadowing opportunities for racial minority students; on-the-job language and cultural training for racial minority employees, etc.

Provide a safe and collaborative work environment for all employees.

Clearly spell out and widely communicate organisational policies on discrimination, harassment, fair treatment, etc. which directly impact an employee's well-being at work.
Make a conscious effort towards creating a harmonious work environment through employee engagement and feedback collection.

Make employees of all races feel involved and included by taking into account their particular needs, if any, in communication, policies and activities.

Have in place not just formal policies, but also encourage informal practices, such as buddy mentoring, employee support groups, etc. which could help employees of minority racial groups fit into the organisation.
Ensure all employee voices are reflected and not held back due to language or cultural differences.

Have in place a formal grievance process for employees to report and receive redress for any discrimination, harassment or unfair treatment, whether to themselves or observed towards others.

Set up a formal grievance process and ensure it is regularly and uniformly communicated to all.
Designate a dedicated person or team to be responsible for handling grievances, which is clearly communicated to all employees.

Ensure grievances are dealt with swiftly, effectively and confidentially.

Maintain and monitor records of grievances to ensure the mechanism is working effectively.
Have in place a performance pledge that ensures grievances are addressed and resolved within the target time period.
Companies registered with Business Registration: the business must be in operation in Hong Kong for at least 1 year


Charitable organisations that are exempt from tax under Section 88 of the Inland Revenue Ordinance


Education establishments


Medical institutions


Chambers of commerce and professional bodies


Other organisations considered appropriate by the organiser
Support the principle of promoting racial diversity in the workplace


Work towards the Charter goals


Provide an update on actions taken after one year for renewal of signatory status
Identify oneself as a signatory of the Racial Diversity & Inclusion Charter for Employers


Use the dedicated Racial Diversity & Inclusion logo on your publications, job advertisements, etc.


Display the official signed Charter in the office
Q1. Do the signatories have to fulfill all the nine charter goals?
They are encouraged to work towards the goals but it is NOT necessary to fulfill all to be eligible for signing. Working on some has already shown an employer' commitment and support for the principles.
Q2. Do the signatories have to provide evidence of continuous progress for renewal?
We understand that some signatories may have attained a relatively high level of racial diversity and inclusion; and further breakthrough in certain areas may not be easy to make. In other cases, small companies such as SMEs may face resource limitations in progressing toward some goals. Therefore, in the renewal exercise, continuous progress of a signatory will be highly appreciated but NOT a must.
Q3. What do the signatories require to report for renewal? Are there any indicators for the signatories to meet?
The signatories are required to provide an annual update which serves more as a feedback collection exercise on which areas they find it challenging to work on and what progress or good practice they have achieved and could share with us. We are developing the annual feedback form with NO plan to introduce any scoring or indicators.
Q4. Do the signatories have to hire more ethnic minorities or lower the Chinese language requirement in recruitment?
Racial diversity and inclusion is for everybody. Therefore, hiring more ethnic minorities is basically NOT a criteria or stated goal of the Charter. Companies without non-Chinese staff can still sign the Charter provided they have a racially inclusive policy and/or work on cultivating a race friendly culture among their Chinese staff. Having said that, efforts on promoting the employment opportunities for ethnic minorities is highly appreciated as it will be one of the most direct ways to achieve racial diversity and facilitate racial inclusion.
Q5. What are the steps ahead?
Simply return the interest declaration form and then sign the Charter under an agreed arrangement of format and event.
If your company is interested in becoming a Charter signatory, please download the Expression of Interest Form, which you can fill up and email back to eoc@eoc.org.hk or fax it to (852) 2511 8142


If you would like to get more information and/or set up a meeting with us, please fill in this Online Slip.
Media
Newspaper supplement published by South China Morning Post on 29 June 2023
Newspaper supplement published by Hong Kong Economic Times on 29 June 2023
Newspaper supplement published by Ming Pao on 29 June 2023


Newspaper supplement published by South China Morning Post on 17 December 2021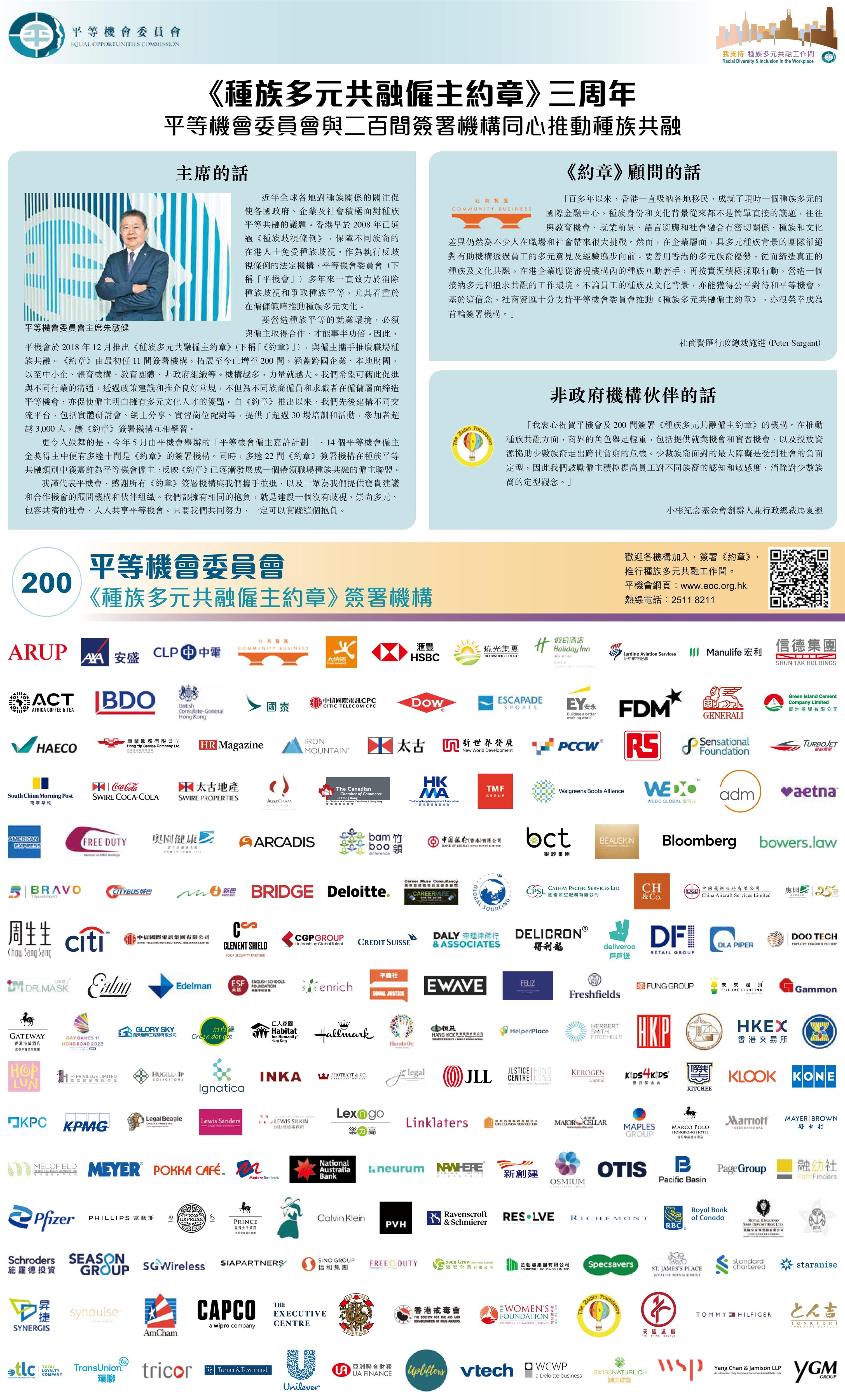 Newspaper supplement published by Hong Kong Economic Journal on 17 December 2021
Newspaper supplement published by Ming Pao on 17 December 2021


Newspaper supplement published by South China Morning Post on 19 March 2021
Newspaper supplement published by Hong Kong Economic Times on 19 March 2021
Newspaper supplement published by Ming Pao on 19 March 2021
Newspaper supplement published by South China Morning Post on 17 January 2020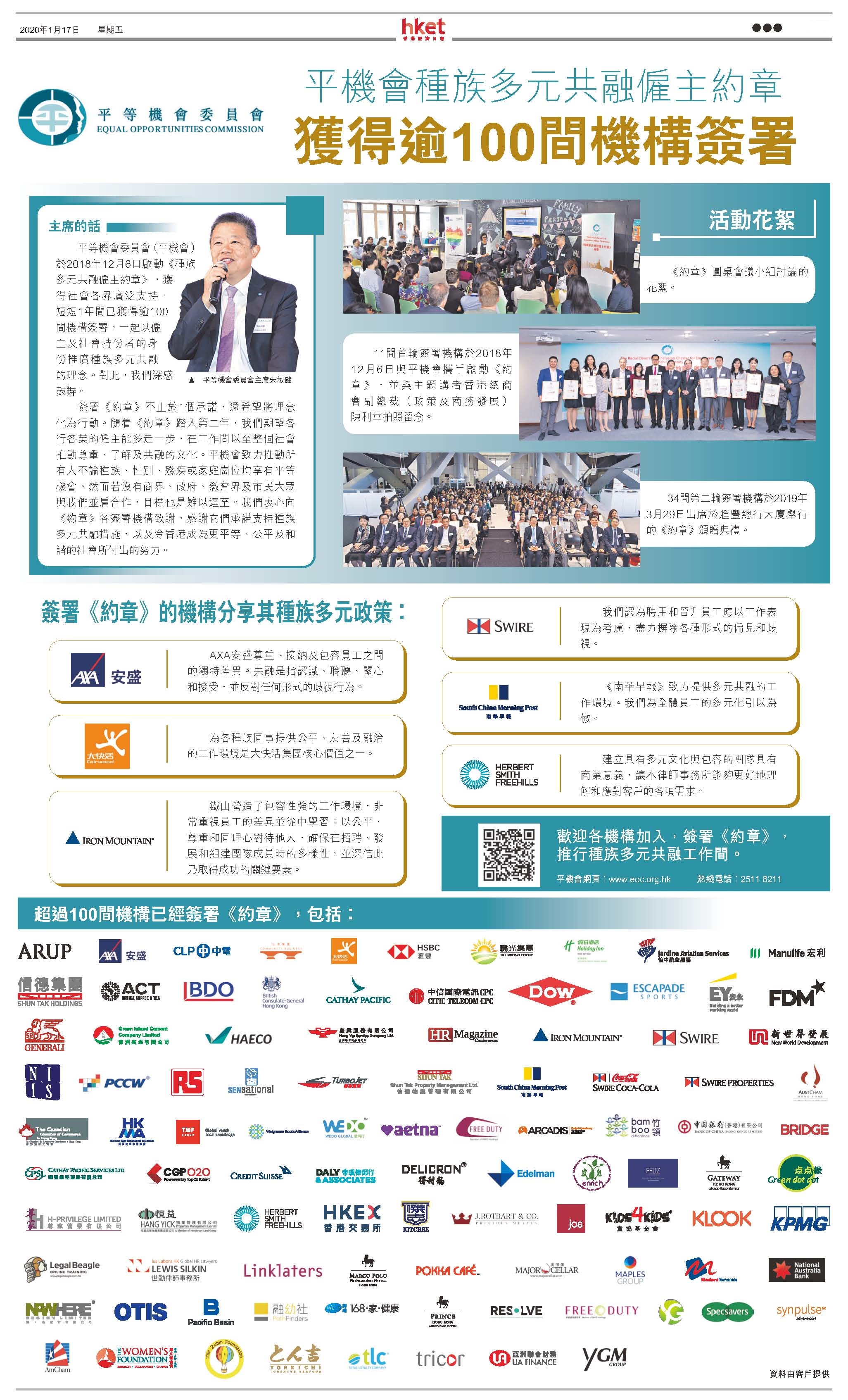 Newspaper supplement published by South China Morning Post on 17 January 2020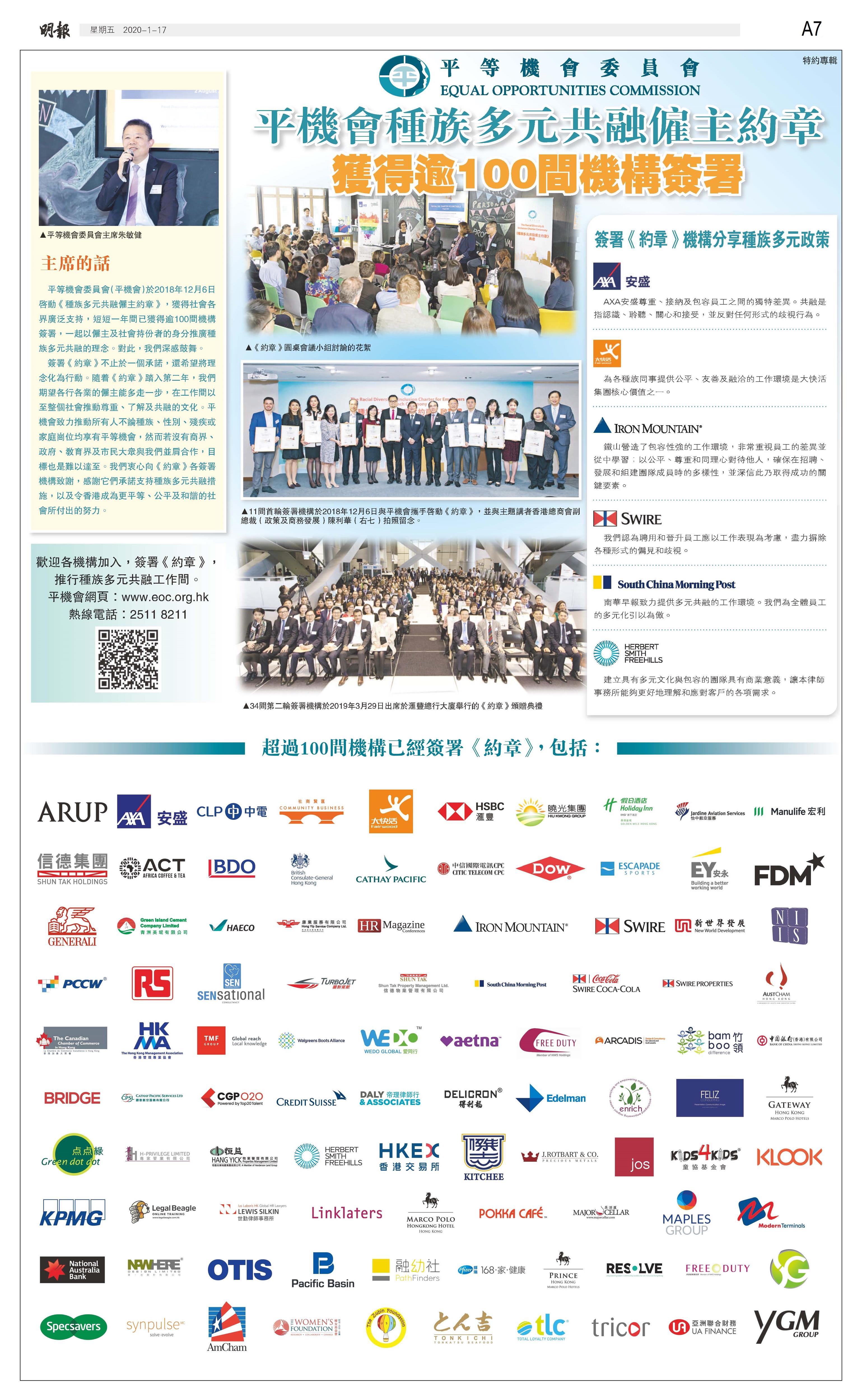 Newspaper supplement published by South China Morning Post on 17 January 2020
---
Annual Review
This short review is for organisations that have completed one year since signing the EOC's Racial Diversity & Inclusion Charter. The review not only seeks to check progress made in the Charter goals, but also gain an understanding of challenges in fulfilling some of the goals. It is as much a performance measure as it is a feedback mechanism. While there are no essential performance targets, completion of this review is mandatory for renewal of Charter membership.

The Advanced Annual Review Form is for those organisations that have completed at least two years with the Racial D&I Charter. This form is a step-up from the simpler annual review form used by organisations that have been with the Charter for less than two years. It is more detailed and requires more targeted responses. It is, however, optional. Organisations may continue to fill out the simpler form if they choose to.
Resources
Curated Conversation with Charter Signatories

Leading Racial D&I Conversations

D&I: Putting Policies into Practices

Embedding D&I into Organisational Policy, Practice and Culture

Providing an Inclusive and Supportive Environment

Embracing Differences to Foster Inclusion

Removing Bias in Recruitment

Celebrating Differences in the Workplace

Fostering Creativity, Connection and Business Growth through D&I Practices

Driving Racial D&I in the Workplace with the Charter

EMerging Talent Internship Programme 2021

Experience Sharing with Swire Properties Limited

Experience Sharing with Schroders

Programme Recognition Event

Trophy Presentation Ceremony to 2-year Charter Signatories (2021)

Trophy Presentation Ceremony to 2-year Charter Signatories