Important Message
To refine our enquiries and complaints handling services, all enquiries and complaints regarding discrimination, harassment and vilification under current anti-discrimination ordinances , that is, the Sex Discrimination Ordinance (Cap.480); the Disability Discrimination Ordinance (Cap.487), the Family Status Discrimination Ordinance (Cap.527) and the Race Discrimination Ordinance (Cap.602), or about our services should be made through one of the following channels with effect from Monday 28 September 2020:
Letter, on-line form, fax, telephone (for enquiries only), or in person (existing channels)

SMS service (for enquiries by people with hearing impairment / speech difficulties)
The email address eoc@eoc.org.hk is not designated for handling the abovementioned enquiries or complaints; all related emails received on or after Monday 28 September 2020 will not be processed. Senders will be required to use respective online forms instead.
To access an on-line form, please click the respective links below:
Office Information
Mail

eoc@eoc.org.hk (*For general enquiries only. See Important Message above.)

Address

16/F., 41 Heung Yip Road, Wong Chuk Hang, Hong Kong.

Tel. No.

(852) 2511 8211

Fax No.

(852) 2511 8142

SMS service

6972566616538 For people with hearing impairment/speech difficulties

Office Hours

Mondays - Fridays
8:45 a.m. to 5:45 p.m.
Persons with disabilities who need physical assistance in getting to the EOC Office can contact us at 2511 8211.
For general enquiries outside office hours, please leave voice messages at our hotline 2511 8211.
Please use the lifts at the Main Lobby (★) for access to the EOC office. Lifts at the Atrium (⊖) cannot access to 16/F.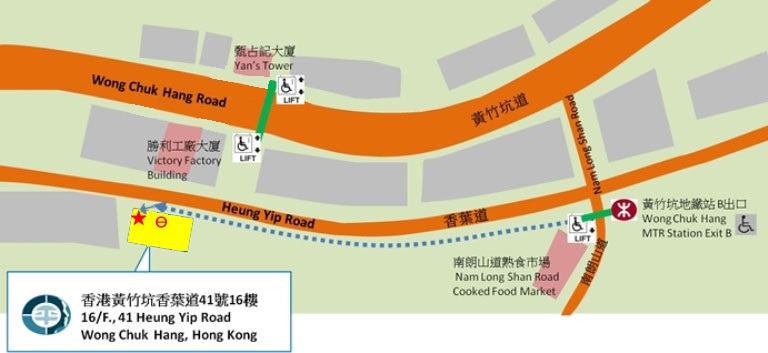 Make Your Views Known To Us
The Equal Opportunities Commission (EOC) is committed to providing you with high quality services. Your views and feedback are vital to us in identifying areas that may need improvement.
Suggestions
Your suggestions are of crucial importance in enhancing our services. Suggestions can be your observations or comments on your service experience or the work of the EOC in general.
Compliments
It is important for our staff members to know whether they have exceeded and how to further excel in their service delivery. We are thankful for your encouragement and very much count on your compliments to our staff and/or our organisation to help foster a quality service culture.
Complaints
If you are dissatisfied with our services, such as politeness and timeliness in our responses, you can make a complaint.
You can contact us in one of the following ways:
Call the EOC's hotline: 2511 8211
Write to us: 16/F, 41 Heung Yip Road, Wong Chuk Hang, Hong Kong (Attention: Service Improvement Officer)
Send us a fax: 2511 8224
Complete an online form
In person, at the EOC's office
To enable your complaint to be processed expeditiously, please provide us with the following information:
Your name and contact information (Please provide at least one way of contacting you, such as email address, phone number or correspondence address)
Details of your complaint (e.g. description of the incident(s) causing your dissatisfaction, date(s), persons involved in the incident(s), etc.)
Copies of relevant supporting documents, if any
We stand ready to look into and follow up on complaints substantiated with sufficient information. You are encouraged to lodge your complaint as soon as practicable, say, within one year from the occurrence of the incident(s). This is because long time lags may give rise to difficulties in fact-finding. Complaints lodged after the occurrence of the incident(s) for more than one year would only be followed up with justifiable grounds.
We will acknowledge your complaint made within five working days.
(Note: for each of the complaints made through the online form, an acknowledgement of receipt will be automatically generated by the EOC's email system upon successful transmission to the EOC.)
We will thoroughly examine the relevant facts to ascertain whether the complaint is substantiated. In the process, we may contact you for further information as and when necessary.
We will endeavour to provide you with a full response (including our findings) within two months, and where applicable, inform you of what we have done / will do in rectifying the areas in need of improvement.
(Note: There are occasions that, due to special circumstances, some complaints may call for a longer processing time. In such cases, we will inform you in writing the reasons within one month, and provide you with a full response as soon as practicable.)
Office of The Ombudsman
If you are dissatisfied with our service and feel that there may be maladministration on our part, you may make a complaint to the Office of The Ombudsman, Hong Kong.
Office of the Privacy Commissioner for Personal Data
If your complaint relates to the personal data of which you are the data subject and that there may be a contravention of a requirement under the Personal Data (Privacy) Ordinance, you may contact the Office of the Privacy Commissioner for Personal Data.
Remark:
All personal data submitted will only be used for purposes related to the carrying out of the statutory functions of the EOC, including conducting research for service improvements. For details on EOC's privacy policy and practices, please visit our website here.
Telephone Recording
The EOC may record telephone conversations between our staff and service users/prospective service users for service quality control purposes. You may also contact us by other means, such as in writing, in-person, by fax or e-mail. All telephone recordings are the property of the EOC which shall not be reproduced or published without our written authorisation. Please click to view the details of the EOC's policy on telephone recording.
Accessing EOC Resources
All publications published / issued by the EOC are now available on-line. You may download any publication from the EOC website in both English and Chinese version. For some publications, there are also versions of different ethnic minority languages available. There are also some EO-related resource materials published by the United Nations and other equal opportunities organisations available in the EOC Office. Members of the public are welcome to visit the EOC Office if they are interested in the materials. Arrangement should be made in advance by telephone (hotline: 2511 8211).
(Revised in September 2020)