EMbRACE Campaign

On March 21 2017, the Equal Opportunities Commission launched the EMbRACE campaign, our brand-new initiative to promote racial equality. The "EMbRACE" Campaign - a play on words EM (ethnic minority) and RACE aims to encourage people to respect, value and support racial equality.
We invite all of you to support and be a part of our EMbRACE campaign, as only through collective action can our society achieve true racial equality.
Corporations or organisations can join this initiative by hosting Lunch and Learn Session on different topics as a way to promote Diversity and Inclusion within the organisation. Corporations or any organisations can also sign a pledge, or put up EMbRACE poster in the place of business. Corporations or individuals can participate in our EMbRACE campaign through our Facebook video campaign as well.
Why Racial Diversity & Inclusion Matter
Hong Kong has a steady increase of people from different races and nationalities which is great for Hong Kong as it enriches the culture of the city. This also means having greater and diverse talent pools which; in return, benefits our businesses by increasing the company's performance.

This statement is not an empty rhetoric. Global management consulting firm, McKinsey; for instance, has looked into this issue and published their report. In their 2017 report, Delivering through Diversity, it was found, after examining data samples from 1000 companies in 6 countries, that the company which has ethnic and cultural diversity executive teams earned 33% likelihood of outperforming other companies in terms of earnings before interest and tax (EBIT).




Lunch & Learn
Creating diversity and inclusion in the workplace is a conscious and continuous effort. As a way to help organisations to promote diversity and inclusion on the ground of race or national origin within the organisation, the Equal Opportunities Commission is offering Lunch & Learn Workshop, where we will invite different speakers to your organisation and engage in a discussion with your staff members on different topics, such as :

The Ethnic Minority Youth of Hong Kong

The Ethnic Minority Women Game Changer

Transforming Adversity into Opportunity

From Conscious Bias to Conscious Effort

We can also tailor make a topic that suits your organisation.

If you are interested to host Lunch and Learn Session, please email us at humazile@eoc.org.hk
How to Support
Put the EMbRACE logo on your Facebook page or website in March every year to promote the International Day for the Elimination of Racial Discrimination;
Display the EMbRACE logo in your offices/stores/outlets;
Like and share our dedicated EMbRACE Facebook page and posts: www.facebook.com/embracecampaignbyeoc/;
Organise or support one of the following activities within the EMbRACE theme:

screen a movie/video on racial equality (Please see below for details)
organise events within your organisation promoting racial diversity and integration
support an activity that brings together ethnic minorities and mainstream society through your CSR Programme;

Make a pledge that your organisation respects racial equality and has zero tolerance for racism (Click here for the sample pledge form)
Your support will be greatly appreciated (Click here for the flyer and registration form). To show your leadership in this field, upon successful registration in this campaign, we will list your company/organisation on our website, Facebook page and publications.
Video links:
Individual Support
Within each of us lies the key to changing the world around us. We would like to tap into this internal strength and courage of individuals to stop racial discrimination and help create an equitable society. We invite you as a member of society to play your part in creating a better world for ourselves and the future generations by EMbRACE-ing racial equality.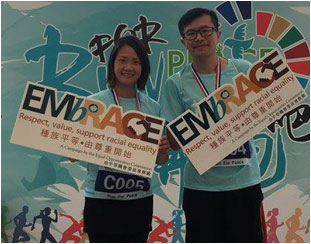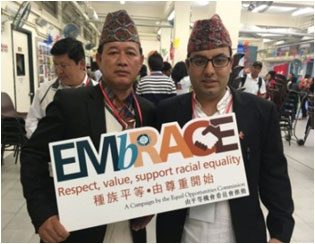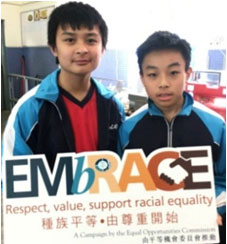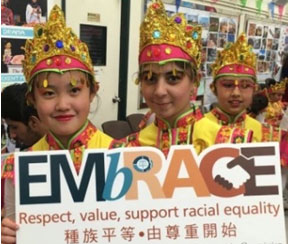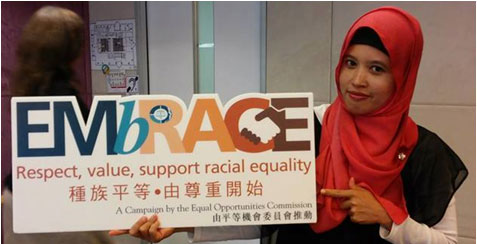 These are some of the ways you can participate in this campaign:
Supporting Organisation
| | | | |
| --- | --- | --- | --- |
| | | | |
| Consulate General of Pakistan | Kids4Kids | HandsOn Hong Kong | Justice Centre Hong Kong |
| | | | |
| RainLily | Health In Action | Teacup Productions | Community Business |
| | | | |
| The India Association Hong Kong | Equal Justice Limited | | |