With shield of Hong Kong law, no one should suffer racism in silence
09/09/2021
The public reactions generated by reports of an alleged incident of racial profiling at a cosmetics outlet last month, first posted on social media and later picked up by this paper, highlight people's growing awareness of behaviour and attitudes that may constitute racially biased treatment, and the power of voicing out concerns to seek justice.
With the company in question issuing a public statement promising to take corrective action, it also sends a strong message that the business sector does take such matters seriously.
The Equal Opportunities Commission (EOC) is not in a position to comment on the incident as we do not have the full picture.
However, first, I would like to remind the public that when faced with unfavourable treatment while accessing any service that seems to be based on your race, you may get in touch with the EOC to make an inquiry or a complaint. We will advise whether the incident constitutes race discrimination or harassment under Hong Kong's Race Discrimination Ordinance.
The ordinance makes it unlawful for a service provider to refuse to provide goods, services or facilities on the grounds of a person's race, or to deliberately omit to provide goods, services or facilities of the like quality, in the like manner and on like terms as other service users of a different race. It also makes racial harassment unlawful, which is defined as unwelcome, abusive, insulting or offensive behaviour based on another person's race, which makes the person feel threatened, humiliated or embarrassed.
Second, I would like to point out to retailers and all those providing services to the public, that treating everyone equally regardless of their ethnic, cultural and religious background is just basic courtesy and human decency.
A two-part video we recently released features some members of the non-ethnic-Chinese communities sharing similar unfriendly experiences they faced that ranged from outright refusal by property agents to provide service to being followed in stores by staff as they shop. We urge goods and service providers to offer training to their customer service staff on what constitutes good service, and the drawbacks of poor, impolite and discriminatory service.
It is courageous of the person who felt discriminated against in this case to have posted her story on social media and then allowed it to be brought to further public attention through your newspaper. On this occasion, your report alerted the management to pay serious attention to address the issue.
But many other cases may go unreported as people choose to remain silent. In the interest of ensuring justice as per the law, and to create a strong precedent, I would urge members of the public to report discrimination experiences to the EOC, the statutory body responsible for implementing the anti-discrimination ordinances.
We hope more people use the protection provided by the law and stop putting up with discriminatory behaviour in silence.
Ricky CHU Man-kin
Chairperson, Equal Opportunities Commission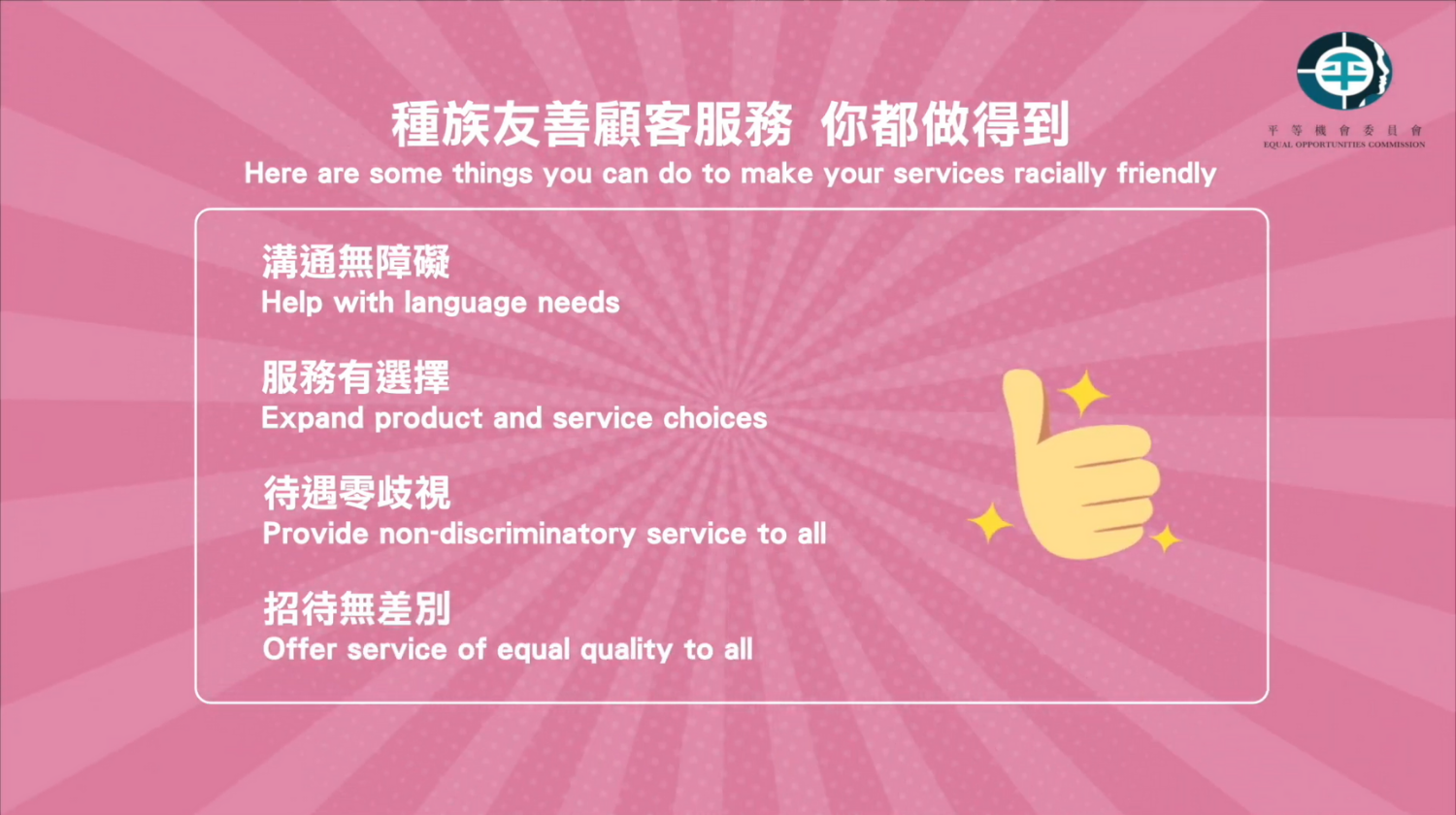 (Note: The article was published on South China Morning Post on 9 September 2021.)