Back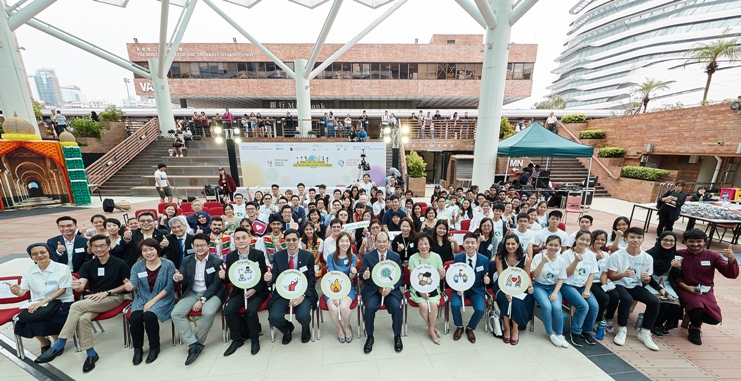 WEDO GLOBAL promotes racial harmony through multicultural leadership programme
Chinese and non-Chinese communities living in Hong Kong do not have a lot of opportunities to communicate with each other, which has led to barriers and misunderstanding. Therefore, WEDO GLOBAL has organised the Jockey Club "Go! Leaders Of the World" (GLOW) Programme, funded by The Hong Kong Jockey Club Charities Trust. This 10-month programme aims to foster understanding and collaboration among youth from different cultural backgrounds and nurture cross-cultural young leaders to promote a multi-cultural Hong Kong.
On 20 October 2018, with the support of the EOC, WEDO GLOBAL and The Hong Kong Polytechnic University co-organised the Jockey Club GLOW Programme Graduation Ceremony cum Multi-cultural Activity Day at the Hong Kong Polytechnic University. Mr NG Chung-lun and Ms WONG Ching-hung, founders of WEDO GLOBAL, together with The Hon Matthew CHEUNG Kin-chung, Chief Secretary for Administration of the HKSAR Government, Dr. Rosanna WONG, Steward of The Hong Kong Jockey Club and Prof Geoffrey SHEN, Interim Vice President (Student Affairs) of The Hong Kong Polytechnic University were invited to be the officiating guests, accompanied by keynote speakers Dr Simon SHEN, founder of GLOs and Ms Shalini MAHTANI, founder of The Zubin Foundation. From Turkish ebru painting to DIY henna body art and an immersive VR experience in the everyday lives of ethnic minorities, the event embodied a celebration of the cultural diversity that makes our city the lively and endearing place it is.
Click the links below to find out more about the work WEDO does to promote racial and cultural inclusion and harmony in Hong Kong.