Back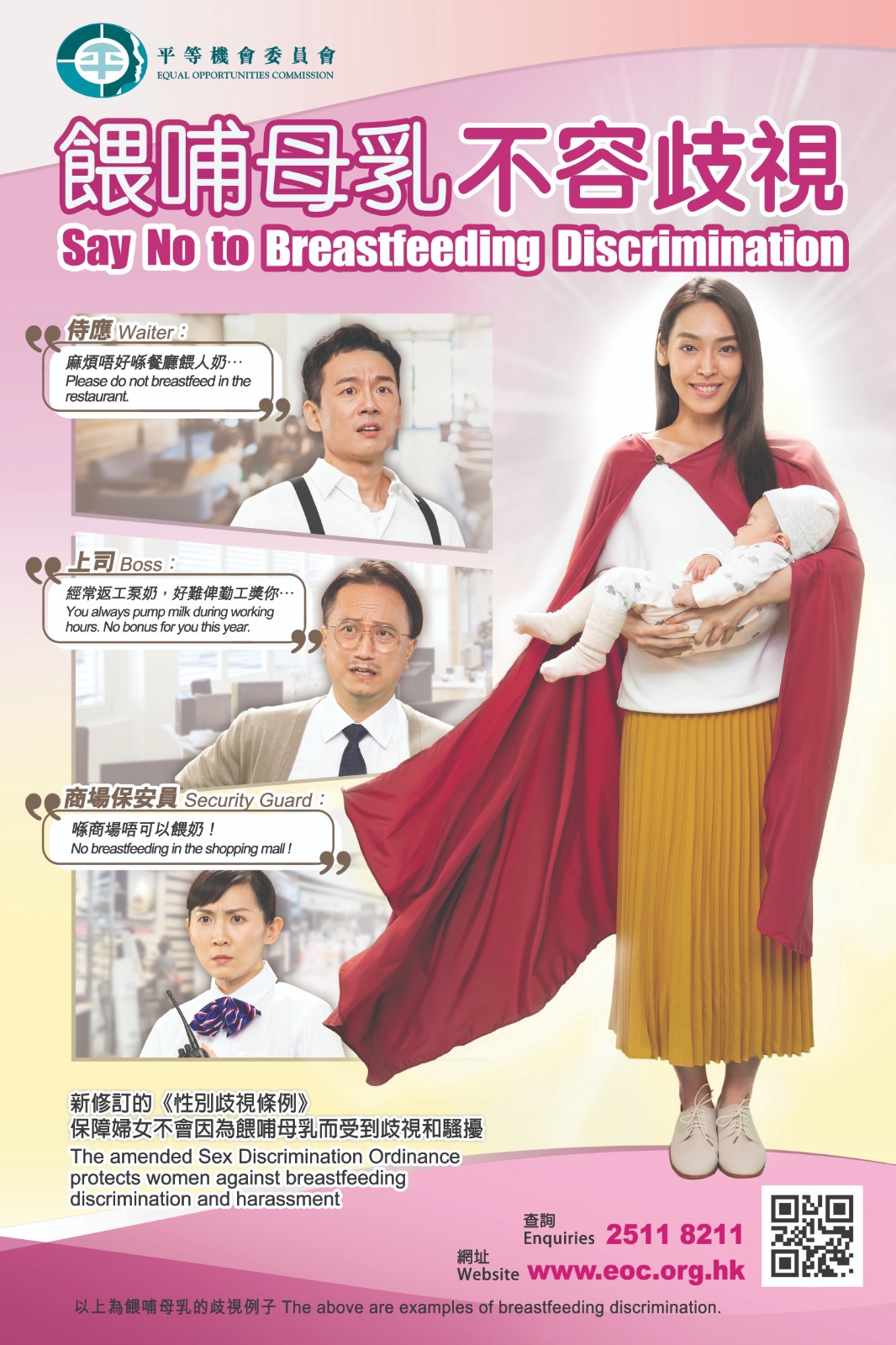 EOC launches citywide publicity campaign on protection against breastfeeding discrimination and harassment
The World Health Organization (WHO) describes breast milk as the best source of nourishment for infants and young children, and recommends exclusive breastfeeding of infants for the first six months after birth. Naturally, this means that women will have to breastfeed in public – on the demand of the child and at any location. And they can only do so with a breastfeeding-friendly environment and supportive societal attitude, as well as legal protection of their right to breastfeed in public without having to endure discrimination and harassment.
Starting from 19 June 2021, women in Hong Kong will be protected from discrimination and harassment on the grounds of breastfeeding under the Sex Discrimination Ordinance. The relevant amendments to the Ordinance were made through the Discrimination Legislation (Miscellaneous Amendments) 2020 and the Sex Discrimination (Amendment) Ordinance 2021, passed by the Legislative Council in 2020 and 2021 respectively.
To publicise the new protections, the EOC is going to mount a citywide publicity campaign featuring advertisement across 60 MTR stations from 19 June to 2 July 2021. This will be followed by the release of TV and radio APIs (announcements in public interest) and the distribution of information booklets.
Under the amended law, breastfeeding is defined as where: (i) a woman is breastfeeding a child; (ii) a woman is expressing breast milk; or (iii) a woman feeds a child with her breast milk, but is not doing so when the relevant act is committed. Breastfeeding discrimination and harassment is unlawful in various areas of public life, such as employment; education; provision of goods, facilities or services; and disposal or management of premises. The EOC has already released a series of guidance and leaflets online earlier on, so that employers, providers of goods, facilities and services, as well as other stakeholders can get prepared and put in place necessary polices to comply with the law.