Back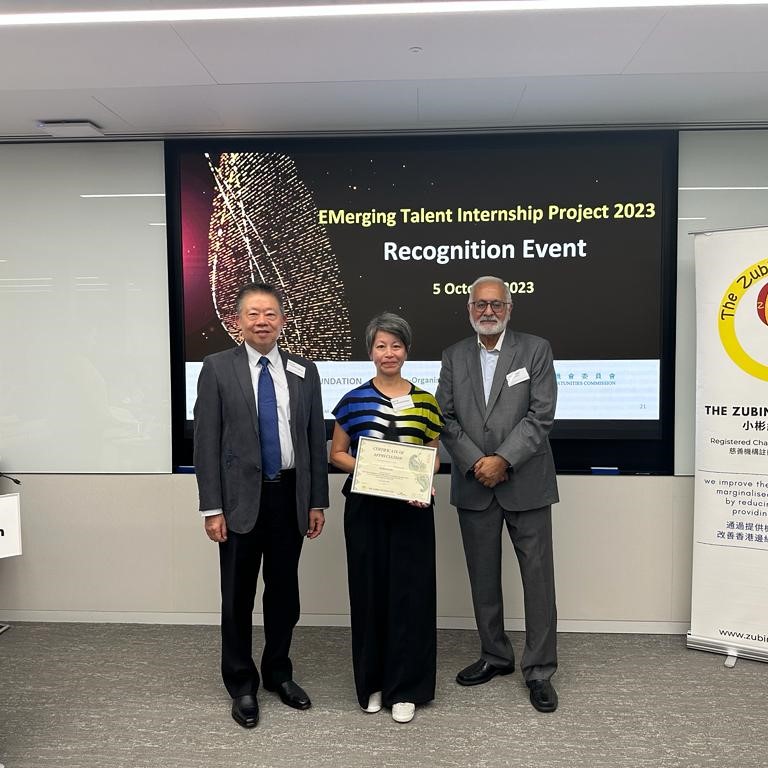 EOC supports The Zubin Foundation's EMerging Talent Internship Programme 2023
The EOC is pleased to extend its congratulations to the students and companies who successfully completed the EMerging Talent Internship Programme 2023. Organised by The Zubin Foundation, this programme has connected companies with non-ethnic Chinese students, providing them with valuable internship opportunities.
This year, 48 interns and 28 employers joined the programme and they were acknowledged at the Recognition Event on 5 October 2023. The EOC played an active role in supporting the initiative by inviting signatories of its Racial Diversity & Inclusion Charter for Employers to provide almost 70% of the internship positions.
During the event, EOC Chairperson Mr Ricky CHU Man-kin expressed his gratitude to the participating organisations. "To recognise the potential in these youngsters, encourage them and allow them to make mistakes as they learn can do so much in boosting their confidence and self-esteem. I would also like to point out the value that participating organisation and employees have gained from this experience — interacting with a culturally diverse group of young students brought great learning and insights to the team," he remarked. EOC Members Mr Gary WONG Chi-him and Mr James Mathew FONG also attended to support the event.
Mr Kishore SAKHRANI, Board Director of The Zubin Foundation, said, "The Racial Diversity & Inclusion Charter for Employers has been a tremendous incentive for companies to become more racially inclusive. With the internship programme, The Zubin Foundation assists ethnic minority students to find internships in companies that are signatories of the Charter. The internship programme gives ethnic minority students exposure to the world of work and gives companies exposure to talent, everyone stands to win."