Press Releases
Work of the EOC presented at the 18th Annual Meeting and Biennial Conference of the Asia Pacific Forum of National Human Rights Institutions
03/10/2013
The Equal Opportunities Commission (EOC) presented its work on enforcing the anti-discrimination ordinances and promoting equal opportunity messages in Hong Kong to over 150 overseas delegates at the 18th Annual Meeting and Biennial Conference of the Asia Pacific Forum of National Human Rights Institutions (APFNHRI) held in Doha, Qatar from 1st to 3rd October 2013. Held for the 18th time, the Conference considers the opportunities and challenges, as well as strategies for advancing human rights in Asia Pacific countries.

In attending the Annual Meeting of the APFNHRI in Doha, Dr. York CHOW, the EOC Chairperson presented the mission and work of the EOC. He said, "The EOC firmly believes that equal opportunities is everyone's basic right. In creating a pluralistic and inclusive society free of discrimination, the EOC has tried to promote and mainstream the values of equal opportunities through pioneering research, advocating policies, and educating the public through publicity activities."

"Over the years, the EOC has sought to provide redress to those who have been aggrieved by unlawful discrimination. In the year 2012/13, the EOC answered over 16,600 enquiries and handled a total of 929 complaints, with a successful conciliation rate of 72%. In cases where conciliation failed, aggrieved persons may apply to us for legal assistance."
"As a part of China, Hong Kong operates under the principle of 'One Country, Two Systems'. We are provided with a wide range of freedom and independence, and our rights being safeguarded within our own jurisdiction by the Hong Kong's constitution and the Basic Law," said Dr. CHOW. In highlighting the EOC's independent role in administering the anti-discrimination laws, Dr. CHOW said, "The EOC is independent from the Government and the legislation under the Commission's purview are also applicable to the Government."

Dr. CHOW introduced the EOC's Three-year Strategic Plan with five priority areas, which included the review of the discrimination ordinances, seeking legal protection for sexual minorities, advocating equal education and employment opportunities for ethnic minority students and students with special educational needs, as well as advocating a functional approach in addressing the needs of persons with disabilities by the Government.

In addition to the five priority areas, Dr. CHOW also elaborated the three major ongoing undertakings by the EOC, which were the Anti-Sexual Harassment campaign, review of the Code of Practice on Employment under the Sex Discrimination Ordinance, and the EOC's initiative to enhance accessibility in Hong's Kong's built environment as well as information and communication technologies.
Other than human rights institutions, the conference is also attended by members of the civil society from various cities. "By sharing the experience and expertise of the EOC in addressing discrimination in Hong Kong with the Asia Pacific Forum, the EOC hopes to build our capacity and knowledge of equality in the region, and contribute to the development of equal opportunities on the international front," added Dr. CHOW.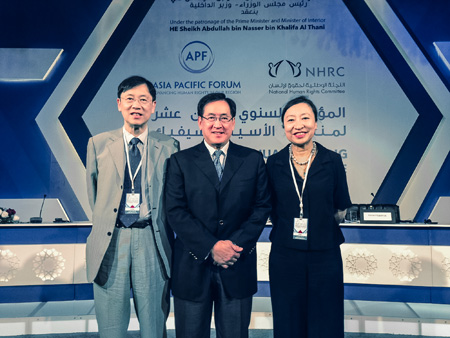 EOC Chairperson, Dr. York CHOW (centre), presented the work of the EOC at the 18th Annual Meeting of the APFNHRI in Doha. The EOC hopes to build its capacity and contribute to the development of equal opportunities on the international front. Also attending the Meeting is Ms Susanna Chiu, Convenor of the EOC's Administration and Finance Committee, and Mr. Michael Chan, Director of Planning and Administration.

---
Media enquiries: Ms. Mariana LAW (Tel : 2106-2226)
Equal Opportunities Commission
3 October 2013