Press Releases
Banking Sector Seminar to Promote Fair Customer Service and Equal Opportunities for Minority Groups Draws Enthusiastic Response
17/07/2015
The first-ever joint seminar of The Hong Kong Association of Banks (HKAB), The Hong Kong Institute of Bankers (HKIB) and Equal Opportunities Commission (EOC) for banking staff was carried out successfully on 6 July 2015. The success further fortified the partnership to continuously promote fair treatment to customers, in particular to those from minority groups.
Over 180 banking practitioners from front office as well as those from offices of compliance or channel management, etc. took part in the "Commissioners Dialogue – Treat Customers Fairly – Sharing from Equal Opportunities Commission" on 6 July 2015. Experienced social workers from the Hong Kong SKH Lady MacLehose Centre also conducted an inspiring information-sharing session that aimed to promote the understanding between banks and ethnic minorities on matters relating to bank account opening.
According to the participants' feedback after the seminar, they acquired deeper understanding on the anti-discrimination ordinances, including the provision of goods, services and facilities, as well as the principles of the Treat Customers Fairly Charter advocated by the Hong Kong Monetary Authority and supported by HKAB and HKIB. The vivid case sharing also served as a reminder of the special needs of different minority groups in getting bank services.
On fulfilling various compliance requirements, such as anti-money laundering and counter-terrorist financing activities concurrently, some participants initiated discussions on the need to strike a balance between careful assessment and prompt treatment in the context of complying with anti-discrimination laws. For continuing service enhancement, some participants also wished to know more about the culture of major groups of ethnic minorities in Hong Kong.
As co-organizers of this event, HKAB, HKIB and EOC are now considering to intensify training in the banking sector and to produce reference materials on recommended good practices. The seminar has definitely kick-started ongoing joint efforts to promote a culture of treating customers fairly and friendly in the banking industry.
Photo
Representatives of HKAB, HKIB, the EOC and Hong Kong SKH Lady MacLehose Centre join for a group photo during the seminar for banking staff.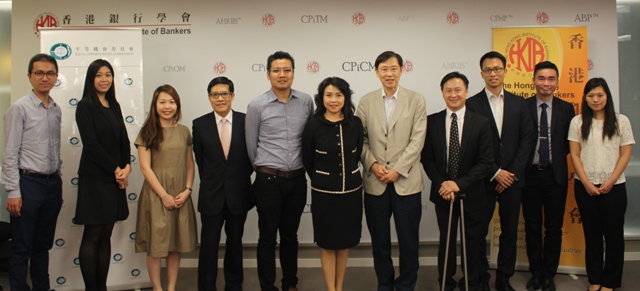 ________________________
For media enquiries, please contact Mr. Sam HO at 2106-2187.
Equal Opportunities Commission
17 July 2015