Press Releases
The EOC releases survey findings on kindergarten admission policies and attitudes towards non-Chinese applicants
14/03/2018
The Equal Opportunities Commission (EOC) today (14 March 2018) released the findings of a kindergarten survey conducted from October to December 2017 among 179 kindergartens offering local curriculum to assess kindergarten policies and attitudes towards non-Chinese speaking (NCS) applicants. While the Commission is heartened to see less resistance from kindergartens in admitting NCS students, the worrying findings are that this openness is not backed by measures to support NCS children in language learning or in providing accessible information to NCS parents on their websites, all of which ultimately impact equal access to education.

The EOC Chairperson, Prof. Alfred CHAN Cheung-ming, said, "Equal access to good quality education is a fundamental right and to ensure such access for ethnic minority children is a priority area for us. The survey reveals the gaps that still exist in kindergarten admission practices, classroom language support and information for parents, placing NCS parents and children at a disadvantage when compared with others."

Section 26(1) of the Race Discrimination Ordinance ("RDO"), Cap 602, provides that it is unlawful for an educational establishment to refuse to accept a student's application for admission on the ground of his/her race. The Ordinance also includes provisions on indirect racial discrimination. Given that language used by people is often associated with their race, unfair treatment without any justifiable reasons based on language may constitute indirect discrimination against ethnic minorities.

The EOC survey, conducted two years after a similar survey was carried out by Hong Kong Unison in 2015, aims at assessing the improvement, if any, in the fairness and openness of kindergartens towards ethnic minority (particularly South Asian) applicants. All the kindergartens in the sample have joined the newly implemented Free Quality Kindergarten Education Scheme, which provides additional funding for kindergartens admitting eight or more NCS students.

In this survey, ethnic minority staff of EOC made telephone enquiries on admission to the kindergartens as "mystery parents". It was found that one in four kindergartens still gave a rejecting, discouraging or ambiguous response when asked about their acceptance of applications from NCS children. Furthermore, over 30% of kindergartens that currently have NCS students did not provide any support for Chinese language learning. Of the remaining 70%, most did not have a clear answer about the formal support structure for language learning of NCS students.

The EOC also carried out a review of the websites of the surveyed kindergartens. Of concern is the finding that over 70% kindergarten websites are either totally or mostly inaccessible to NCS parents, with information either provided only in Chinese or just minimal admission information mandated by the Education Bureau (EDB) in English. Essential information such as school fee, school facilities, class structure, curriculum etc. is largely unavailable in English.

The EOC would like to reiterate that unequal treatment against ethnic minorities under unjustifiable policies and procedures based on language may constitute indirect discrimination. The EDB is urged to strengthen its support, monitoring and guidance of kindergartens to ensure that admission policies are fair and open. Kindergartens are also encouraged to come up with a formal structure of language support for NCS students and provide relevant information to parents on their website to help them with school choice.

In order to help schools and kindergartens adhere to the principles of equal opportunities, the EOC has published a leaflet titled Easy Guide on Promoting Racial Equality in Schools: Kindergarten Admission, which is also available on the EOC website www.eoc.org.hk. Kindergartens are urged to contact the EOC to clarify that their policies are not in violation of the anti-discrimination ordinances or to review their admissions procedures.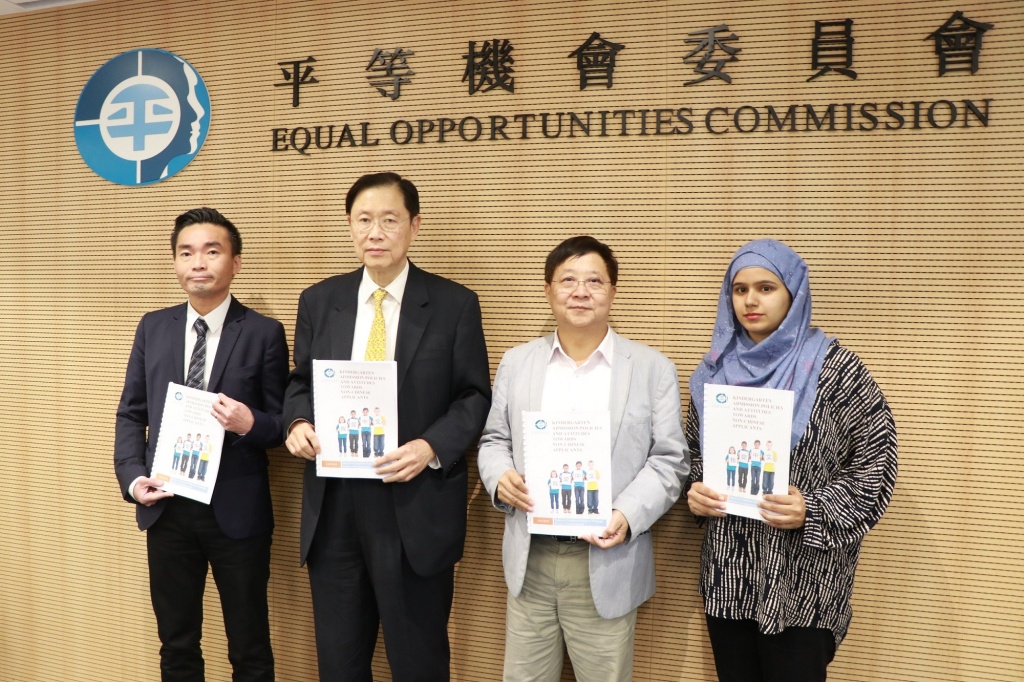 __________________________
Equal Opportunities Commission
14 March 2018