Press Releases
EOC Launches MTR Advertising Campaign to Promote Racial Equality & Integration
17/12/2020
The Equal Opportunities Commission (EOC) today (17 December 2020) announced the start of an MTR advertising campaign to promote racial equality and integration. The campaign will be rolled out in three phases over the next 36 weeks. During that time, three MTR trains carrying advertisements on the cabin door glass panels with messages of racial equality and integration will run on the Island Line, Kwun Tong Line and Tsuen Wan Line.
To make the messages of racial diversity and inclusion visible, the EOC has partnered with the WEDO Global, a social enterprise that advocates multicultural education, to launch the first phrase of the MTR advertisement between 17 December 2020 and 10 March 2021. Under the theme "Fight the virus together as one human race", two versions of the advertisement have been developed, featuring ten Hong Kong people from different races wearing masks sewn by ethnic minority (EM) women under WEDO Global's "We Mask Action" project. The communities represented are African, Chinese, Caucasian, Filipino, Indian, Indonesian, Nepalese, Pakistani, Thai and Vietnamese, though they speak for all ethnicities in Hong Kong. They come from a variety of backgrounds and industries, from finance to performing arts, and law to social welfare and social enterprises; and include students in secondary school and college as well as housewives.
This primary message in the advertisements is to remind all of us to play our part in the fight against the pandemic, regardless of gender, race, age, and occupation. The secondary message is one of unity among diversity. It focuses on racial minorities standing and contributing alongside all Hong Kong people as one despite language and social barriers that some may face.
EOC Chairperson Mr Ricky CHU Man-kin said, "The COVID-19 pandemic has disproportionately affected some communities more than others, with people from EM groups among the hardest hit. We must seize this opportunity to build back better as we work towards recovery from the pandemic. Through this advertising campaign, we would like to connect people in Hong Kong from all races in fighting the virus and build a culturally diverse and socially inclusive society."
Since March 2020, the EOC has maintained a dedicated webpage to address discrimination and other issues of concern sparked by the pandemic featuring statements, articles and press interviews released by the Commission, as well as information on relevant NGO services. The platform has since expanded to include a set of FAQs for foreign domestic workers and their employers, which is available in six languages, namely Bahasa Indonesia, Chinese, English, Nepali, Tagalog and Thai. For details, please refer to the following webpage: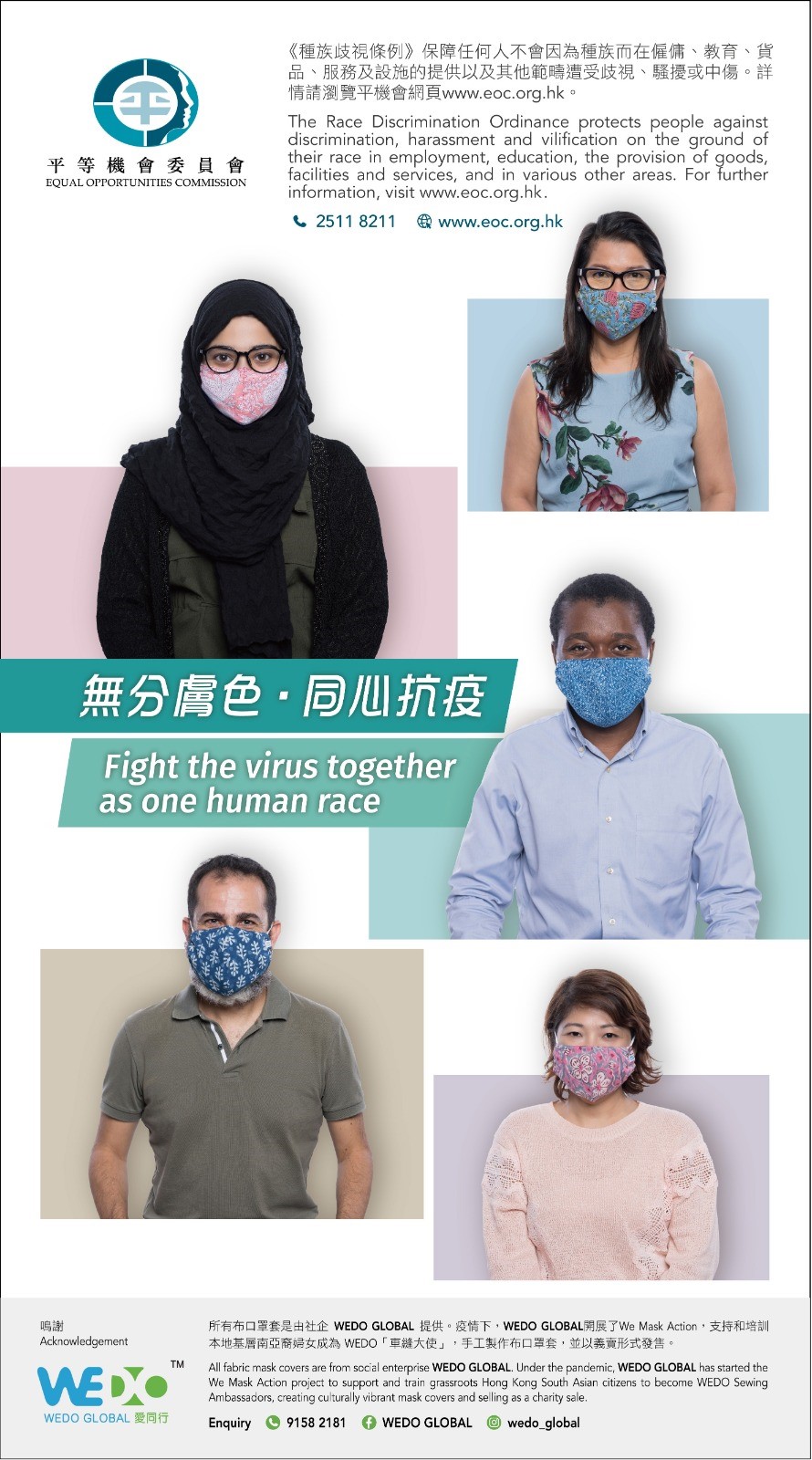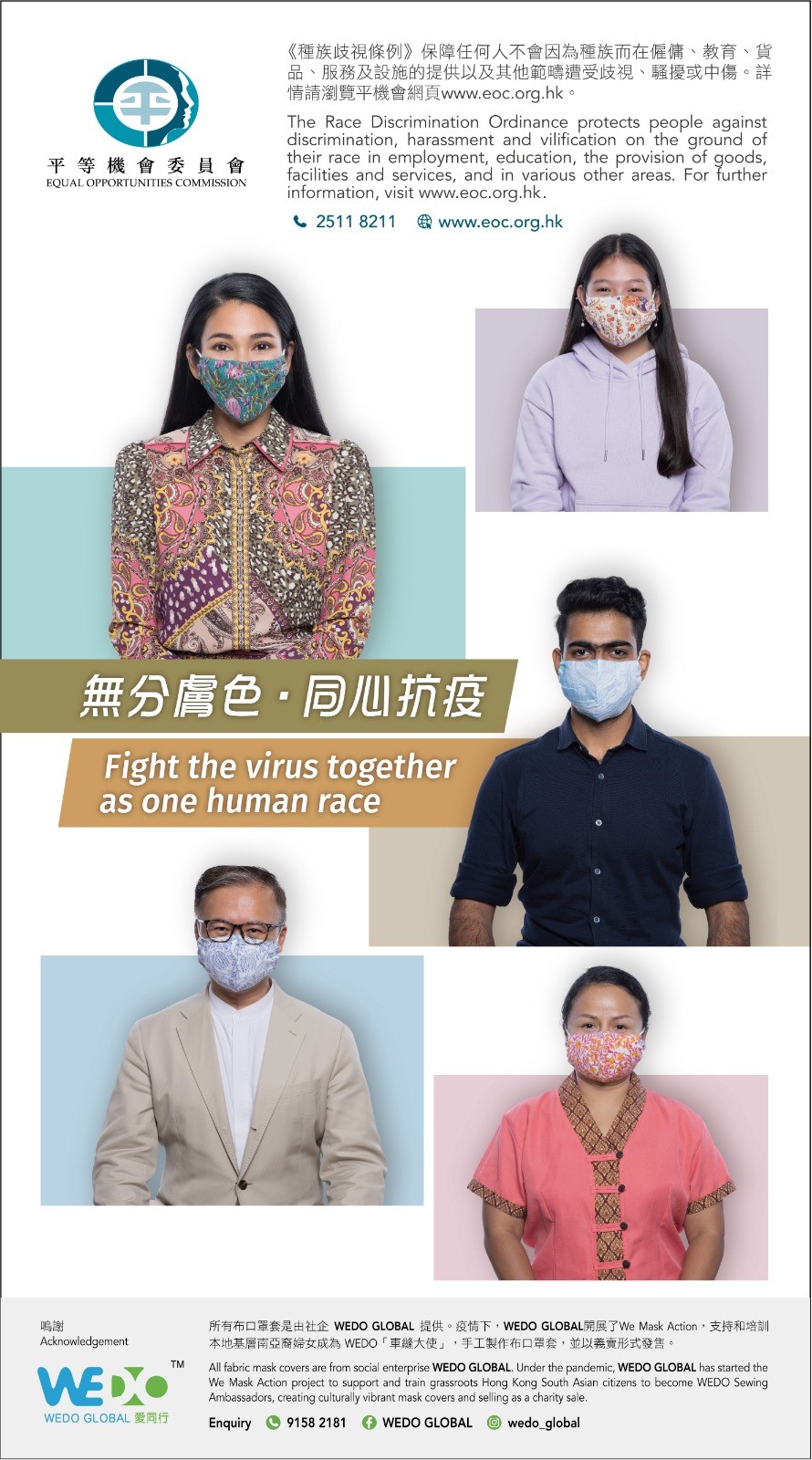 Photo caption:
Two versions of the EOC's advertisement on MTR cabin door glass panels featuring ten Hong Kong people from different races wearing masks sewn by ethnic minority women under the theme "Fight the virus together as one human race"
--------------------------------
Equal Opportunities Commission
17 December 2020