World Cultural Diversity Day 2021 Panel Discussion, Diverse Voices on Diversity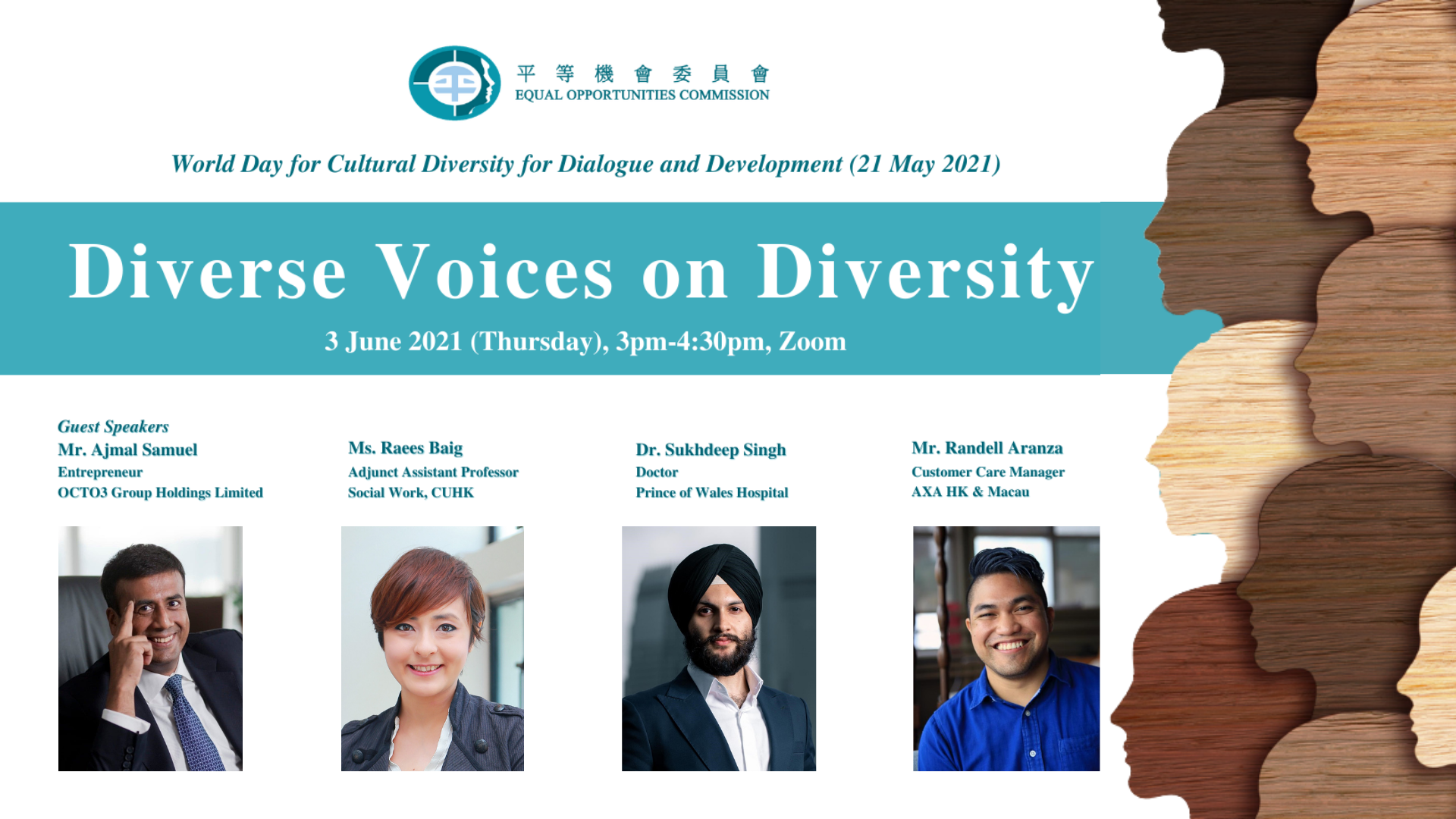 More than ever, we need to seize every opportunity to commemorate and celebrate the beauty of differences that the human race is lucky to have. So here is another reason to celebrate variety and colour: World Day for Cultural Diversity for Dialogue and Development or World Cultural Diversity Day as it has been commonly shortened to, coming up on 21 May. To learn more about this significant day, go to World Day for Cultural Diversity.
Organisations and individuals can do a bunch of stuff around this theme, but if you are looking for ideas, here are some suggestions
- Cultural Diversity Wall: Display the wall in a common area on to which staff can pin photos/art/messages reflecting their own culture or what cultural diversity means to

- Staff storytelling event: Staff share stories about their own cultures/backgrounds

- Digital art exhibition or screen saver: Ask staff to send in a cultural icon with brief description

- Greetings in multiple languages: Encourage colleagues to send a short greeting to a colleague in their language

- Foreign movie festival: Encourage your staff to watch a foreign movie and have an online or offline discussion on the similarities/
dissimilarities among cultures
At the Equal Opportunities Commission, we are grabbing this opportunity to talk to you more about racial D&I beginning 21 May. Look forward to curated conversations with some signatories of the Racial D&I Charter for Employers on their workplace practices. Ending the celebration will be a panel discussion titled Diverse Voices on Diversity. Mark your diaries and register through Google Form.
About the panelists:

1. Ajmal Samuel
Ajmal Samuel (施杰浩) is a Hong Kong based Entrepreneur and a Hong Kong national-level athlete. He is the Founding Chairman of OCTO3 Group Holdings Limited, a Hong Kong headquartered ICT and Financial Technology Solutions Provider.
Prior to founding OCTO3, Ajmal worked in various internet technology companies and start-ups in Hong Kong that had applications/implications globally.
Ajmal is also a Founding Member of the Association for Universal Accessibility Hong Kong and volunteers his time as a motivational speaker for numerous Non-Governmental Organizations, youth bodies and Corporations and Companies.
Ajmal is also an extreme adventurer and a well-established endurance athlete. He is actively involved in social and sports activism and advocating for disabled rights.
He has taken on numerous challenges including: being the first disabled person to participate as a team member and finish the grueling Around the Hong Kong Island Race (ATIR) in 2017; Hand cycling from Beijing to Mohe (Chinese border with Russia) a total distance of 2,615Km in 37 days to raise awareness for disabled sports in China and Hong Kong and to raise funds for the education of needy children in Hong Kong in 2019; and to be a part of the first and only all disabled doubles crew to participate and finish the ATIR also in 2019

2. Professor Raees Begum BAIG
Professor Raees Begum Baig is an Adjunct Assistant Professor in the Department of Social Work of The Chinese University of Hong Kong. She holds a Doctor of Philosophy degree from The University of Hong Kong. She was one of the co-opted members of the Community Participation and Publicity Committee of Equal Opportunities Commission and a committee member on the Promotion of Racial Harmony of the HKSAR Government from 2005 to 2011. Before joining the university, she worked for various local and international organisations, including the United Nations, on the protection of gender and minority rights. Her current research areas include gender and ethnic equality, migration and labour rights, and teaches courses on social policy and gender sensitivity.

3. Dr Sukhdeep Singh
Dr Sukhdeep Singh is a Doctor at Prince of Wales Hospital. He obtained his MBChB from The Chinese University of Hong Kong. He is currently also the Co-Head of Operations at Pargaas, a non-profit organisation based in Hong Kong.

4. Randell Aranza
Randell is a Customer Care Manager at AXA and is a member of the WEF Global Shapers Community in Hong Kong. At present, he juggles his corporate life and volunteer commitments with being a part-time postgraduate student at Hang Seng University studying for a Master of Science in Insurance. As a son to Filipino domestic helpers, he aims to make use of his experience to inspire ethnic minorities in pursuing their dreams no matter what hurdles the wider society may present and to encourage resilience in those who are navigating through bias in their respective environments.
We look forward to seeing you on 3rd June 2021.