Back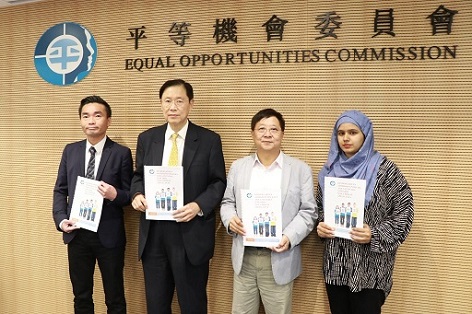 EOC releases survey on kindergarten admission policies and attitudes towards non-Chinese applicants
The EOC unveiled findings of its "Survey on Kindergarten Admission Policies and Attitudes towards Non-Chinese Applicants" on 14 March 2018. Designed as an update to a similar study conducted by Hong Kong Unison in 2015, the survey aims to assess improvement in the fairness and openness of kindergarten admission practices targeting children from ethnic minorities, South Asians in particular.
The survey took the form of telephone enquiries, made by EOC staff posing as parents to 179 kindergartens under the Education Bureau's Free Quality Kindergarten Education Scheme, which grants additional funds to kindergartens admitting eight or more non-Chinese speaking (NCS) students. In spite of the incentives currently in place, it was found that one in four kindergartens gave a rejecting, discouraging or ambiguous response when asked if they would accept applications from NCS children. More alarming still, over 30% stated upfront that they do not provide support for NCS students to learn Chinese as a second language while over 20% consider Chinese proficiency a selection criterion which, in the absence of a justifiable reason, may constitute unfair treatment and indirect discrimination under the Race Discrimination Ordinance, given that the language we speak is often associated with our race. Of equal concern is that over 70% of kindergarten websites are either totally or mostly inaccessible to NCS parents, with essential information – tuition fees, school facilities, class structure, curriculum designs, etc – available in Chinese only. While over 70% of the kindergartens surveyed said admission interviews would be conducted in Cantonese, most of them (73.1%) agreed to switch to English only when probed for alternative arrangements.
Professor Alfred CHAN Cheung-ming, Chairperson of the EOC said, "The EOC welcomes the Government's latest effort in strengthening support for ethnic minorities by earmarking $500 million in the Budget and relaxing Chinese language requirements for 22 grades in the civil service. Yet we call on the Education Bureau to step up its support for and monitoring of kindergartens in ensuring that their admission practices are discrimination-free, and to enhance its incentive mechanisms by covering kindergartens with less than eight NCS students. We also encourage kindergarten staff and administrators to review and refine admission policies based on our Easy Guide on Promoting Racial Equality in Schools: Kindergarten Admission. These are all important steps towards lifting ethnic minority children out of their disadvantaged position."
Indeed, as Prof Chan argued in an article published on 19 March in the South China Morning Post, the fact that one in every five ethnic minority households in Hong Kong lives below the poverty line – as announced in a government report last month – has to do with the scarcity of gainful employment, which in turn is predicated on access to good education and the acquisition of language skills from an early age. Only when Hong Kong begins to regard ethnic minorities as its assets, rather than a liability, and equip them with the resources they need, will we be able to retain our diverse talents and truly flourish as an international city.