Press Releases
EOC Holds Event to Mark Milestones in Racial Diversity & Inclusion Employer Charter Progress
01/12/2022
The Equal Opportunities Commission (EOC) held an in-person event for signatories of its Racial Diversity & Inclusion Charter for Employers (the "Charter") on 25 November 2022 to mark significant milestones in the Charter progress. Not only did the event celebrate four years since the launch of the Charter, it also marked the growth of the Charter network to over 250 signatories. Entitled "Tracking Racial Diversity & Inclusion Progress", the event was held at HKEX Connect Hall.
The EOC launched the Charter in August 2018 to provide a set of guidelines for employers committed to establishing a racially diverse and inclusive work environment. Joining the event as guests of honour and keynote speakers were Secretary for Labour and Welfare, Mr Chris SUN Yuk-han, JP, and HKEX Group Chief People Officer, Ms Kerry ROOKS. Along with EOC Chairperson Mr Ricky CHU Man-kin, IDS the guests elaborated on the importance of racial diversity and inclusion (D&I) in the workplace.
The event also provided a platform for the EOC to announce the launch of an Advanced Annual Review Form of the Charter, which tied in with the theme of tracking progress. With more questions on targets, commitment and results of racial D&I initiatives, the detailed form can help the EOC as well as organisations evaluate progress on racial D&I in the workplace.
The event featured a panel discussion on "Tracking Racial D&I Progress: For Business and Social Good" and a fireside chat to explain the rationale and objectives behind the Advanced Annual Review Form to an audience of over 70 representatives from Charter signatories.
In the closing remarks, Chairperson of the EOC, Ricky Chu said, "Racial D&I is an expanding new field worldwide and more so for Hong Kong. We have a long way to go. I would like to express my gratitude to our community of signatories who have joined hands to push forward this agenda."
He added, "I would like to particularly highlight the importance of collaboration and cooperation when it comes to advancing this common cause. This is not a race with individual players; rather it is a team effort for the betterment of society as a whole."
_________________________________________
Equal Opportunities Commission
1 December 2022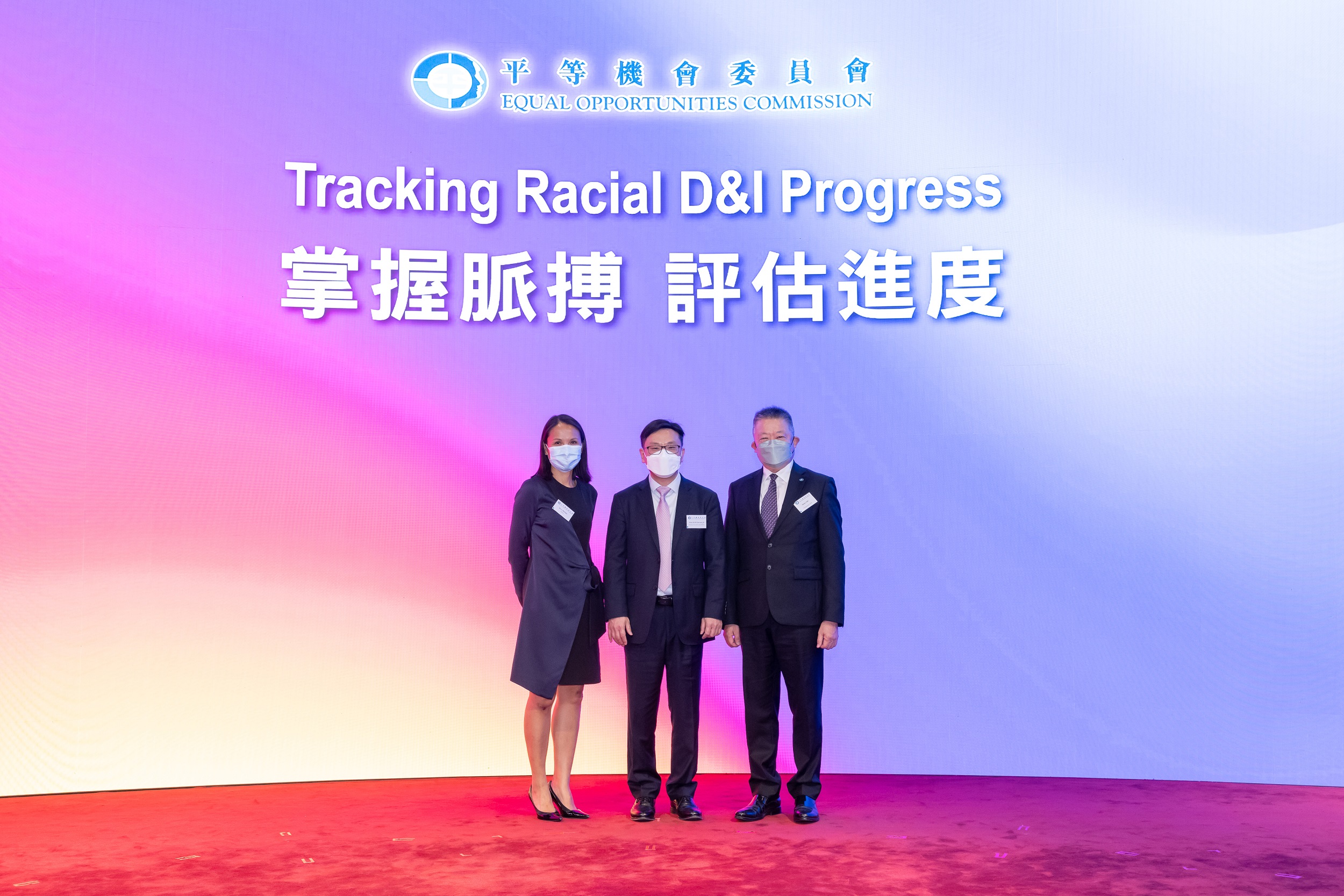 Picture of Guests of Honour, Secretary for Labour and Welfare, Mr Chris SUN Yuk-han, JP, (centre) and HKEX Group Chief People Officer, Ms Kerry ROOKS (left), with EOC Chairperson, Mr Ricky CHU Man-kin, IDS (right).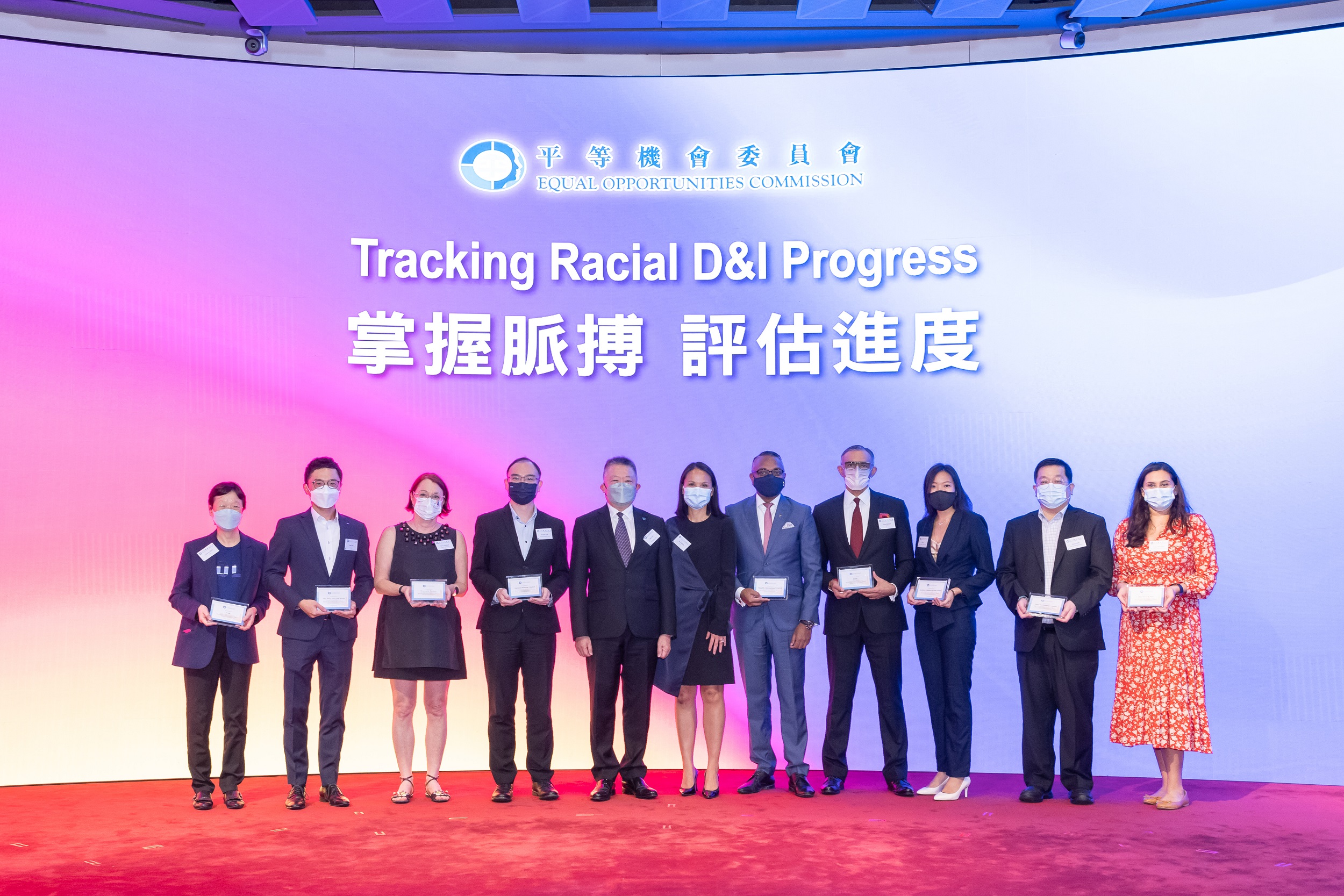 Picture with the "Advanced Annual Review Form" Test-run Charter Signatories, including Arup, AXA Hong Kong and Macau, Community Business, Fairwood Holdings Limited, HSBC, Jardine Aviation Services Group, Manulife (International) Limited, Shun Tak Holdings Limited, John Swire & Sons (H.K.) Limited.