Press Releases
EOC Holds Event to Celebrate Fifth Anniversary of the Racial D&I Employer Charter
03/11/2023
The Equal Opportunities Commission (EOC) today (3 November 2023) celebrated the fifth anniversary of the Racial Diversity & Inclusion Charter for Employers (the "Charter") with an event attended by signatories. Over 100 guests attended the event entitled "Racial DEI Progress: Gains, Gaps & Goals" at HSBC, the same venue where the Charter was launched in 2018, and engaged in discussions on the subject of racial diversity and inclusion (D&I) in the workplace.
Since the Charter was launched five years ago, over 380 organisations have become signatories. At the event, a summary of the policies, practices and processes on advancing racial inclusion as adopted and shared by 29 signatory organisations were presented to the participants. These 29 signatories had submitted the first round of Advanced Annual Review Forms, which aimed to collect more detailed information on workplace racial D&I initiatives. The practices they shared have been compiled into a list of best practices that can be emulated by other employers. In addition, a panel discussion and a fireside chat featuring three experienced D&I practitioners from the 29 signatories provided further insights into the actions organisations can take to make progress in promoting racial inclusion.
Dr Allan ZEMAN, GBM, GBS, JP, Chairman of Lan Kwai Fong Group, joined the event as the keynote speaker. Speaking on the importance of racial inclusion, he said, "Hong Kong's long history of cultural diversity has always benefitted the city, aiding in its development and growth into the successful, first-world, international hub that it is today. To maintain this standing, we should continue to marshal all resources, including our home-grown, racially diverse talent pool. I am happy to see efforts in the direction of more racial diversity and inclusion among employers."
In his opening remarks, EOC Chairperson Mr Ricky CHU Man-kin said, "The Charter is a partnership. It is nothing without the signatory organisations that have committed to the nine listed goals to promote racial equality and inclusion in the workplace. The significant growth of the network serves as evidence of the increasing importance of racial equality, diversity and inclusion. However, there is still a long way to go in our journey to foster a truly inclusive and multicultural society."
____________________________________________
Equal Opportunities Commission
3 November 2023
Annex: Summary Report of the Advanced Annual Reviews of the Charter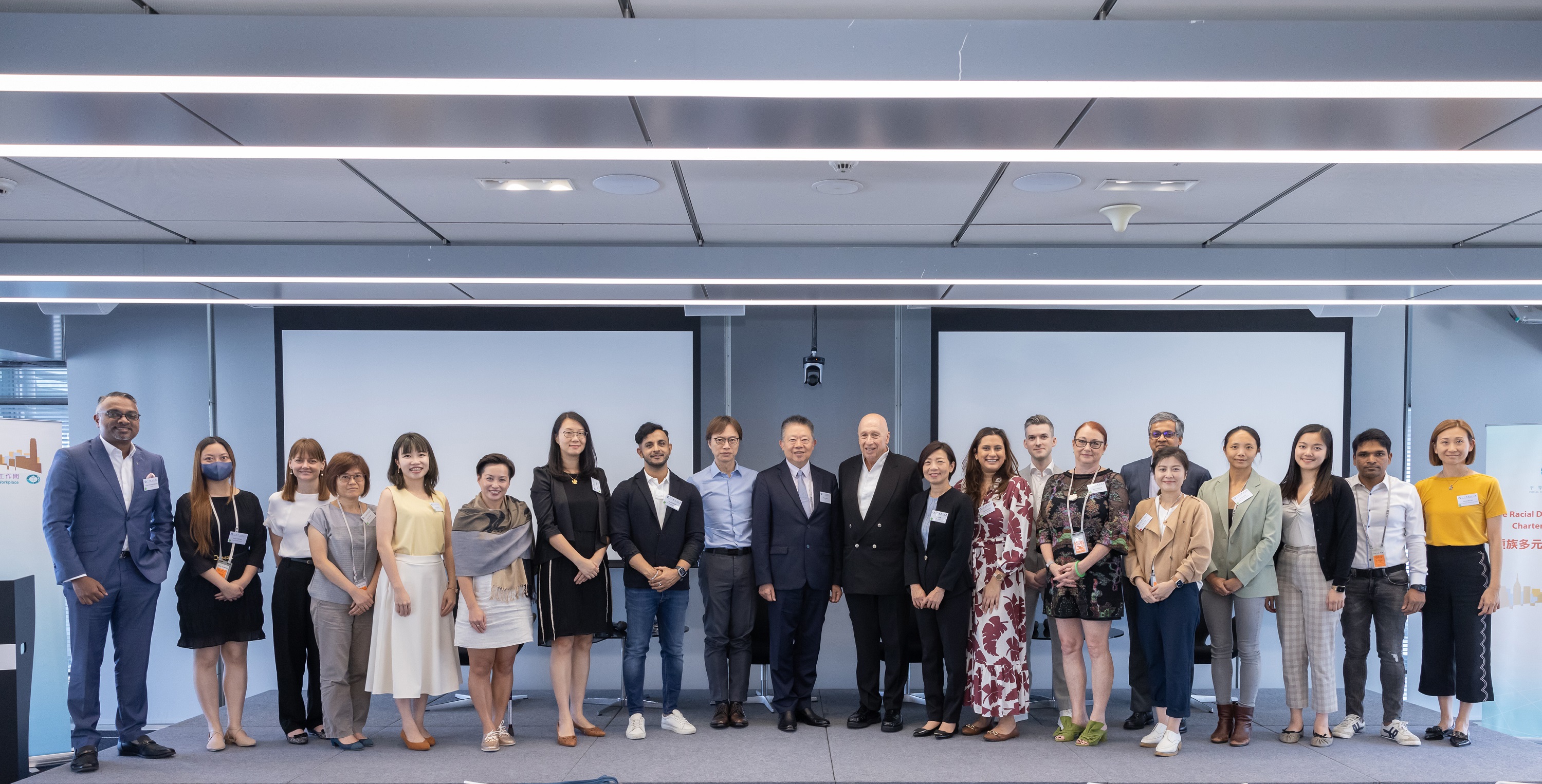 EOC Chairperson Mr Ricky CHU Man-kin (tenth from left) and Dr Allan Zeman, Chairman of Lan Kwai Fong Group and keynote speaker (eleventh from left) in a group photo with representatives from Charter signatory organisations.

The EOC today (3 November 2023) held a seminar on racial diversity and inclusion in workplace to celebrate the fifth anniversary of the Racial Diversity & Inclusion Charter for Employers.