Back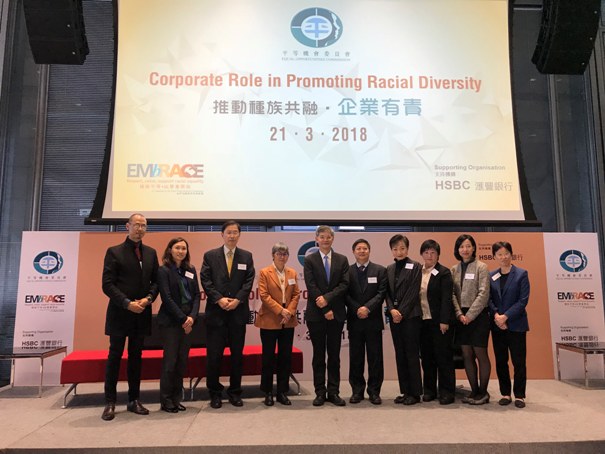 Diversity good for business, corporate leaders speak from experience at EOC seminar
On 21 March 2018, the EOC organised a seminar entitled "Corporate Role in Promoting Racial Diversity" to mark the International Day for the Elimination of Racial Discrimination with the support of HSBC. Over 100 representatives from multinational corporations, SMEs, social enterprises and NGOs turned up to hear insights into how diversity could drive business growth and what practices could be implemented to better engage ethnic minorities in the workplace. Moderated by SCMP's Chief News Editor, Mr Yonden LHATOO and former legislator Ms Margaret NG, the multi-sector panels featured senior management from HSBC, Arup Group Limited, The Hongkong and Shanghai Hotels, Limited, PCCW, Fairwood Holdings Limited and Towngas.
The consensus was clear – beyond a matter of corporate social responsibility, hiring and grooming ethnic minorities makes business sense, not least because they could bring innovative perspectives to the table with their diverse cultural backgrounds and enable the company to open up and serve different markets. The panelists also encouraged companies to conduct cultural sensitivity training for their Chinese-speaking staff and introduce "buddy programmes", both of which would help facilitate mutual understanding, boost morale and raise productivity.
As pointed out by the seminar's keynote speaker, Dr LAW Chi-kwong, Secretary for Labour and Welfare, Chinese proficiency remains a daunting obstacle facing ethnic minoirites seeking gainful employment in Hong Kong. While strengthening support for language learning and eliminating discrimination in admission policy is an ongoing challenge for the education sector, businesses should also do their part by reviewing whether the Chinese language requirements for the positions they are recruiting are inherently essential to the job.
Professor Alfred CHAN Cheung-ming, Chairperson of the EOC said, "Improving the employability and livelihood of ethnic minorities is both the moral thing to do and an apt answer to Hong Kong's aging population and shrinking workforce, which is a real, impending issue. Following the enthusiasm at this seminar, we hope that the private sector at large will keep the dialogue going and put ideas into action."